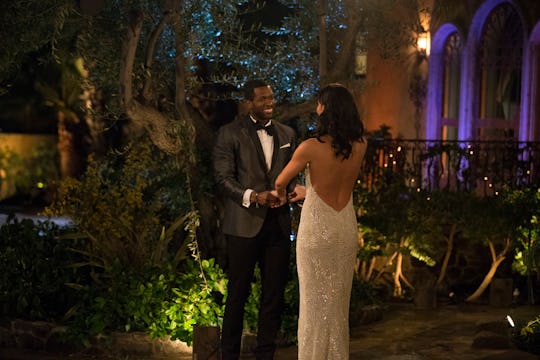 Paul Hebert/ABC
Jean Blanc On 'The Bachelorette' Is More Than Just A 'Colognoisseur'
There are already a couple of suitors that have Bachelor Nation's attention, namely because of certain stand out details from their ABC biographies. Like Jean Blanc, who calls himself a colognoisseur, which appears to mean that he collects cologne. Surely, that can't be the only thing about this guy, though, right? So who is Jean Blanc on The Bachelorette and how far do we think he'll really go?
Jean Blanc was born in Haiti, but moved to Boston with his family when he was just two years old. ABC writes that he went to Duke University, got a master's degree in business administration and currently works in finance in Florida. He's also lived in Memphis and worked as an engineer. So he's likely well traveled and dedicated to moving forward in life.
Judging by his Instagram account, he likes to have a good time. There are tons of pictures of him with his family, eating out at restaurants, and generally having fun. He also seems to like fancy watches. Oddly, there are not pictures of cologne that I could find.
Other than that, we really don't know a whole lot about the guy just yet. Knowing The Bachelor producers, they're probably going to play up his love for cologne, so be prepared for a lot of cheesy scent jokes in the first weeks. If he makes it that long, of course.
We don't have much more info on the guy. It looks like he just joined Twitter for the show and has only tweeted one thing from ABC about The Bachelorette cast this season, and retweeted entertainment writer and Bachelor Nation guru, Amy Kaufman, who has a tricky relationship with the franchise's creator.
She also just released a book called Bachelor Nation, and Jean Blanc says in an interview that he's reading it at the moment, so that might mean that he doesn't end up with Becca in the end. (Why would you read all the juicy behind the scenes gossip and goings-on if you were happy with how your experience turned out, right?)
He does seem like a nice guy, though. His Instagram comments are mostly his friends lightly teasing each other and being mad at him for not hitting them up when he travels to their town. It looks like he's volunteered for Habitat For Humanity with President Jimmy Carter, so you know he's all about doing more than just collecting cologne and filming reality shows. Becca might really like that, given her own personality and career drive. It looks like he's also a bit of sneakerhead. So a really well rounded guy, after all.
He might go far this season, since Becca admitted that she fell for a couple of guys before eventually getting engaged. She told Entertainment Tonight that the experience was totally worth it, but that it was hard to narrow down all the good choices to just one dude. Becca said:
Until you're in this position, you don't realize how much pressure there really is, and how difficult it is to navigate certain relationships," she shared. "Because if you're doing it right, you should be developing feelings for multiple people to really sift through every personality, every relationship, to exhaust the ones that aren't right for you.
She added that she's so much happier in this relationship than she ever was with anyone else — including Arie, which is nice to hear. Becca said in the same interview that they're really "teammates." She added:
It feels so different because the relationship and the guy is different. And this time, it feels better suited for me, it's lke this better fit for me and what I need in my life. And I am willing to do anything it takes to make it work to support my partner.
Jean Blanc definitely looks like the kind of guy who'd be up for that. We'll have to wait and see how it all ends up.