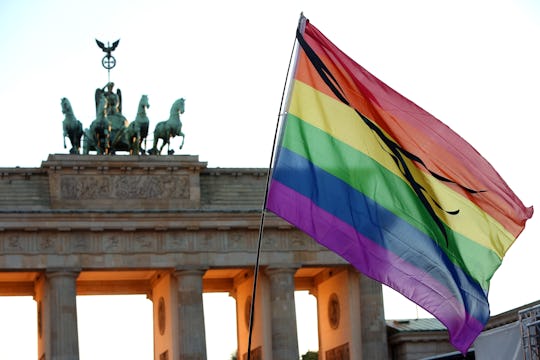 Adam Berry/Getty Images News/Getty Images
Who Is Jean C. Nieves Rodriguez? He Had Just Bought His First Home When He Died In Orlando
A week after a gunman murdered 49 people in an ambush on an Orlando nightclub, family and friends of the dead — along with much of the world — are mourning and remembering them with funerals, memorials, and vigils. One of those victims is Jean C. Nieves Rodriguez, a 27-year-old who had recently purchased his first home and taught his 16-year-old sister to drive. On Friday, those who loved him held a memorial service for him, celebrating his commitment to his family, his role as a support system for others, and his humble attitude.
Rodriguez's family received confirmation that the Puerto Rico native had died at the gay nightclub, Pulse, a day after the mass shooting, the deadliest one in United States history. Soon after, his close friend Ivonne Irizarry told The Orlando Sentinel that he was "a caring, loving guy — just like a big teddy bear."
He was also quite a hard worker. At 15, Rodriguez had started working at McDonald's, where he became a manager within a few years. At the time of his death, he was a general manager at a check-cashing store. "He wanted to be the best at what he did, and he would work very hard to achieve that," Irizarry said, according to The Sentinel.
Last week, President Obama and Vice President Joe Biden traveled to Orlando to meet with families of the victims, displaying solidarity with both the Latinx and LGBT communities, both of which were directly and painfully affected by the event.
"The Vice President and I told them, on behalf of the American people, that our hearts are broken, too, but we stand with you and that we are here for you, and that we are remembering those who you loved so deeply," Obama told reporters afterwards, The Washington Post reported. "... Today, once again, as has been true too many times before, I held and hugged grieving family members and parents, and they asked, why does this keep happening?"
The tragedy did, in fact, reignite the political debate over access to guns, with Senate Democrats staging a filibuster Wednesday that resulted in Senate Republicans agreeing to vote on some proposed gun safety measures.
But on a much more personal level, Rodriguez's loved ones reflected on the man who loved cars and going to the beach, and who always let his family know how much he loved them and always helped his friends out.
His sister, Valeria Monroig, told the Sentinel that her brother had once told her "I love you more than I love myself," and said he paid her phone bill when she couldn't.
Upon learning the news of Rodriguez's death, one family member, Mariluz Calderon, expressed sadness for Rodriguez's death as well as for the deaths of all of the victims on Facebook:
With great sadness that I announce that between the fallen of the massacre in Orlando was Jean Carlos Nieves the cousin of my husband Julito Mendez. The Whole Family Nieves, loperena and Mendez are well devastated and in shock at the news. I pray to God to give you the strength to get through this tragedy and also for all those families who lost their loved one. May God give you eternal rest to todos. r.i.p 😢😢
And the close friend, Irizarry, will remember how giving and dependable he was. "Whatever you needed, you could count on him," she said, according to the Sentinel. "Whatever the situation was, good or bad, he was with me. He was a friend. He was family. He was a brother. And it didn't matter the time. If you called him and you needed help, he'd be there."
The horrific events at Pulse last weekend ended so many lives, and forever changed so many more, from the 53 injured to the families to the LGBT community to the whole of the United States. Right now, Rodriguez should be enjoying his new house, spending time with those he loved, and working to improve his life and the lives of others in the way he apparently always had. Instead, his has become another name on the list of those senselessly and devastatingly killed in another American mass shooting.