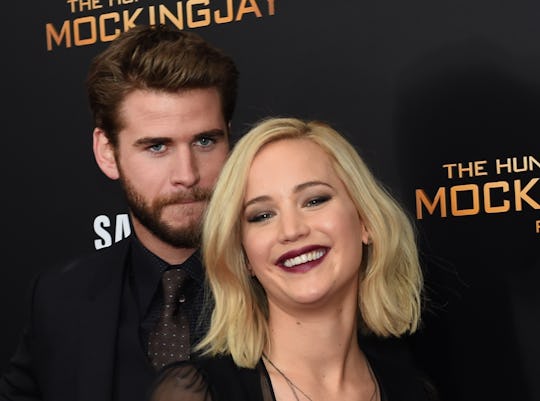 Timothy A. Clary/AFP/Getty Images
Who Is Jennifer Lawrence Dating? The Golden Globe Nominee May Have Some Major Competition
Everyone wants to know if the rumors are true. Is Golden Globe nominee Jennifer Lawrence really dating Liam Hemsworth? According to OK! Magazine, the couple is totally together — but can you ever trust celebrity gossip mags?
If anything, it feels like Lawrence and Amy Schumer have the most solid relationship in town... but that doesn't mean that Lawrence and her Hunger Games co-star aren't totally getting it on, too. Since her breakup with Chris Martin, all we can really confirm is that Lawrence has been spending lots of quality time with Hemsworth — but nothing more. And while the actress hasn't officially confirmed anything herself, she does seem talk about her dating woes a lot. (JLaw! Just like us!)
In an interview with Vogue earlier this past November, the 25-year-old actress explained her troubles getting a date. "No one ever asks me out," she said. "I am lonely every Saturday night. Guys are so mean to me. I know where it's coming from, I know they're trying to establish dominance, but it hurts my feelings." Lawrence added that she was probably needed "to meet a guy ... who had been living in Baghdad for five years" and who had "no idea" who she was.
Some men are probably just intimidated by her — she's smart, fun, and knows not to take herself too seriously. Only a very cool dude (like, sigh, Liam himself) could handle an amazing woman like that. Guys, it's time to step up your game.
Of course, Hemsworth's fans are torn: Team Jennifer or Team Miley? The choice isn't so simple. Just this week, Hemsworth and ex-fiancé Cyrus were spotted getting cozy at a music festival in the actor's native Australia. A source close to the couple claimed in a comment to E! that the two were busy "cuddling and kissing" the entire weekend.
"Miley has never gotten over Liam and always hoped they would get back together," a separate insider claimed in a statement to the media outlet. "She doesn't know where it will go, but she definitely still loves him and wants to be with him."
So far, social media seems to be split. "If Miley Cyrus and Liam Hemsworth got back together," joked one Twitter user, "then that just proves [that] 2016 is gonna be filled with miracles." In contrast, one JLaw fan tweeted, "Who else wants Liam Hemsworth and Jennifer Lawrence to become a couple? I know I'm not the only one...."
Whatever the case, someone better confirm something and soon — this could seriously get out of hand come award season, and JLaw has much more important things to focus on — like filling her trophy case.
Images: Timothy A. Clary/AFP/Getty Images