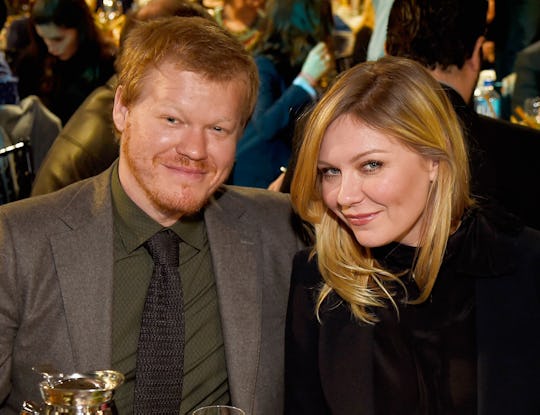 Matt Winkelmeyer/Getty Images Entertainment/Getty Images
Here's What We Know About Jesse Plemons, Kirsten Dunst's Fiancé
When Kirsten Dunst got engaged at the beginning of 2017, some fans might have been wondering who her fiancé Jesse Plemons is... after all, he probably looks incredibly familiar. Of course, Fargo fans will recognize Plemons from Season 2, when he rather prophetically played Dunst's husband. Because I guess sometimes, life really does imitate art. Now it seems the couple are also expecting their first child together, as well as planning a wedding.
Jesse Plemons is one of those actors who has been on a few major television series but has somehow managed to stay out of the limelight. The 29-year-old actor from Mart, Texas, grew up honing his acting skills by re-watching the Lonesome Dove miniseries and trying to mimic actors like Robert Duvall, according to a 2015 interview with The New York Times:
I was always kind of by myself wishing I was Gus. The older I got I started to try and trace just how Robert Duvall and Tommy Lee Jones did what they did to me, how they made me believe they were those people. I bought every part of their world. I guess I've sort of been chasing that honesty of theirs ever since.
Since those days, Plemons has made a name for himself as a reliable character actor (who also bears a striking resemblance to Matt Damon; he once even played a younger version of Damon in All The Pretty Horses), Plemons has moved on to a stellar career in Hollywood, according to GQ. He appeared on all five seasons of Friday Night Lights, had a recurring role in the last season of Breaking Bad, and went on to play the unfortunate butcher Ed Blumquist in Season 2 of Fargo. And that's when things in his private life apparently changed in a major way. He and actor Dunst are now engaged, and are reportedly expecting their first child together. Reps for Dunst and Plemons did not immediately respond to Romper's request for comment.
Dunst and Plemons met and fell in love when they were playing husband and wife Ed and Peggy Blumquist on Fargo in 2015, for which both scored Emmy nominations, according to Us Weekly. Plemons said to the media outlet at the time about about meeting Dunst:
It was a gift. I loved Kirsten's work for a long time, and I was really excited once I'd met her, and she's a great person. We're both actors that just … have fun with the material.
The couple have been cautious about sharing their relationship with the general public; when Page Six initially reported their engagement, neither Dunst nor Plemons offered any comment. Which isn't especially surprising, given Plemons lack of interest in the art of the Hollywood schmooze. As he said in an interview with GQ:
There are times when it's fine and fun and going to festivals and hanging out with crew and supporting a movie that you are proud of. That's all fine and great. But I just don't feel like it's really in my nature to schmooze, wheel, or deal.
Luckily for Plemons, he has Dunst to help him out with his schmoozing; she's been in the industry ever since she was a little girl, and probably knows a little something about how to embrace (or avoid) the schmooze.
My money is on avoidance; now that Dunst and Plemons are expecting their first child together, and Dunst seems to be ready to move on to the next chapter of her life. Marrying her "best friend," as she told Marie Claire in June, and preparing to "have babies and chill."
And considering the actress has been working most of her life, she's definitely earned some time away.
Check out Romper's new video series, Romper's Doula Diaries:
Watch full episodes of Romper's Doula Diaries on Facebook Watch.