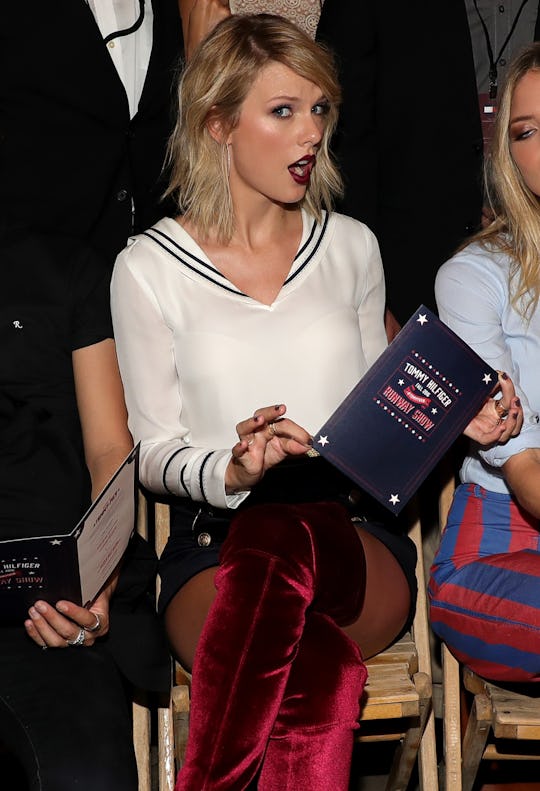 Neilson Barnard/Getty Images Entertainment/Getty Images
Taylor Swift May Have A New Boyfriend
Taylor Swift has been laying low for the past few months. And who could blame her? She had a rough go of things last year; issues were cropping up with her squad, a break-up with actor Tom Hiddleston (amid rumors that the relationship was staged) and bad press in general. No wonder the singer, who once enjoyed almost unanimous adulation in the media, took a breather. To recharge, to reconnect... and to start a new relationship. According to People, Swift is reportedly dating British actor Joe Alwyn. So I guess it hasn't been all bad.
Romper reached out to Taylor Swift's rep for comment and is awaiting a reply.
The mews outlet reported that 27-year-old Swift has been secretly dating Alwyn since February. She even went so far as to put on disguises to keep their relationship private. The 26-year-old actor was seen in Ang Lee's movie Billy Lynn's Long Halftime, and will star in the upcoming period comedy, The Favourite, alongside one of Swift's most faithful friends, Emma Stone. Alwyn is based in London and lives with his parents. Swift is reportedly renting a house in North London, according to The Sun, who first reported the news. The pair are allegedly keeping their relationship under wraps for a very good reason; nobody wants to see another Hiddleswift fiasco. A source close to the couple told The Sun:
Taylor and Joe are the real deal, this is a very serious relationship. But after what happened with Tom Hiddleston, they were determined to keep it quiet.
As we all remember, the Grammy award-winning singer dated Thor's Hiddleston for around three months, with loads of public displays of affection and front page attention. So much attention, in fact, that conspiracy theorists sparked online debates that the two were travelling the globe and getting photographed together as a publicity stunt. Hiddleston addressed those rumors in July to The Hollywood Reporter, saying:
Look, the truth is that Taylor Swift and I are together, and we're very happy. That's the truth. It's not a publicity stunt.
The pair announced their split at the beginning of September.
Hopefully, Swift will find smoother sailing with Alwyn. She certainly seems to want to give the romance a shot, if The Sun's source has it right. Apparently, she's been dodging the media for months already with Alwyn quite successfully.
She's been walking around with Joe in London using disguises, like scarves and hats, to keep her identity under wraps. Nobody has a clue they've been walking past a music superstar — not even her new neighbours.
After Swift's years of dating in the public eye, maybe this low-key relationship will make for a refreshing change.