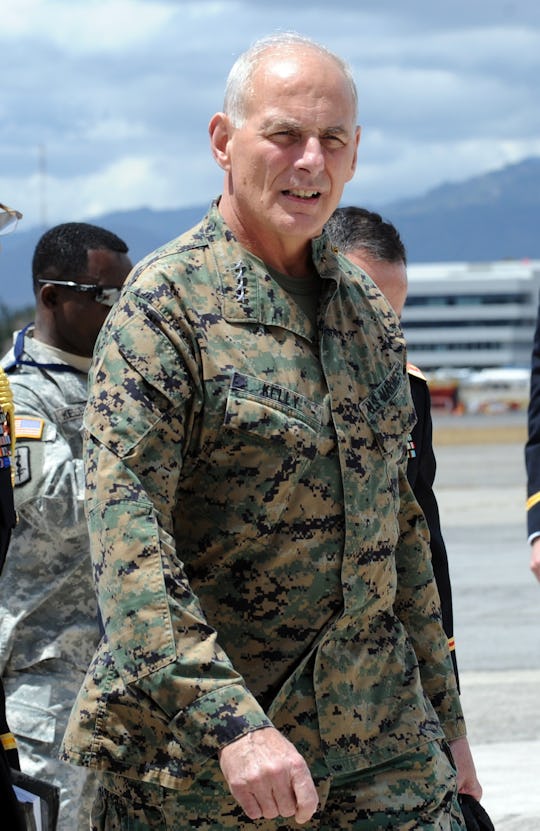 JOHAN ORDONEZ/AFP/Getty Images
Who Is John Kelly? The Retired Marine General Is Reportedly Trump's Homeland Security Pick
During his campaign, Donald Trump publicly sparred with the father of an American soldier killed in combat in the Middle East, and now, post-election, he's tapped a different one to join his Cabinet. On Wednesday, the president-elect reportedly chose John Kelly — himself a retired marine general with more than 40 years of military experience — to run the Department of Homeland Security. Kelly most recently was involved in oversight of the Guantanamo Bay military detention center, and will head up the youngest federal agency, which is dedicated to safeguarding American interests in key areas like airport security, terrorism, and immigration, according to The Chicago Tribune.
Trump has displayed a proclivity for filling out his nascent administration with loyalists, and for surrounding himself with military generals. But Kelly meets only the latter, as he did not endorse either Trump nor Trump's opponent, Hillary Clinton, for president, Politico reported. That makes his feelings about Trump's August feud with his fellow Gold Star father Khizr Khan, who lost his son in Iraq in 2004, a bit tougher to decipher.
It's not much of a surprise, though either: Throughout 2016, Kelly was largely silent about his personal thoughts on domestic politics — which he called a "cesspool" in July — and noted that, while he would be willing to serve in either a Trump or Clinton administration, he would not endorse either, according to Foreign Policy.
So far, each of the four heads of the department, since its inception following the Sept. 11, 2001 terrorist attacks, has been a lawyer; Kelly's potential confirmation by the Senate would break that tradition. But that's not to say he's inexperienced. Before retiring in 2016, he was in charge of the U.S. Southern Command, which heads up operations in South and Central America, and he's a current member of the Homeland Security Advisory Council, according to The Huffington Post. During his time there, he was critical of President Obama's unsuccessful attempts to shut down Guantanamo Bay, dismissing human rights abuses there as "foolishness," according to the ACLU.
He also clashed with the president's administration on the issue of whether to allow women in combat roles, asserting early this year that doing so would pressure the military to ease physical qualifications to serve in the in the Marine infantry, for example, to make them more accessible for women.
Kelly also served three tours in Iraq, as reported be the Associated Press's Lolita C. Baldor and Julie Pace, who described the four-star general as "highly respected, often outspoken, and known as a fierce, loyal commander." But those attributes likely aren't the ones that first caught Donald Trump's attention.
Like Trump himself, Kelly is a hardliner on border security, and reportedly attracted the now president-elect with a 2015 testimony at the Senate Armed Forces Committee in which he referred to the southern border as a "significant security threat" that could allow gangs and smugglers to "facilitate the movement of terrorist operatives or weapons of mass destruction toward our borders, potentially undetected and almost completely unrestricted," as The Huffington Post reported.
Trump, of course, distinguished himself from a wide pool of Republican primary candidates with his signature campaign promise to build a gigantic border wall between the United States and Mexico to staunch illegal immigration. And as the Huffington Post's Elise Foley and Jessica Schulberg pointed out, Kelly as the head of the Department of Homeland Security would have significant sway over this issue, and other controversial campaign promises that fall under the department's domain: forcing Muslims to register with the government and making it very, very difficult for immigrants from certain countries from entering the United States, for example.
There are some deficiencies in Kelly's resume that may have him playing catch-up if he does indeed end up taking over this position, according to Politico. For example, he doesn't have experience in animal disease research, disaster relief and immigration services, cybersecurity, the Transportation Security Administration, the Coast Guard, Border Patrol, or the Secret Service, all crucial undertakings of the wide-reaching department.
Kelly also has the unhappy distinction of being the highest-ranking military official to have lost a child in Iraq or Afghanistan. His son, 2nd Lt. Robert M. Kelly died instantly at the age of 29 when he stepped on a land mine in southern Afghanistan, where he had been leading a platoon of Marines in 2010, according to The Washington Post.
Kelly is a man who has been entrenched in certain aspects of the position that could now be his to keep, both emotionally and professionally. Whether he's ready to take on the heavy domestic political mantle is still up in the air.