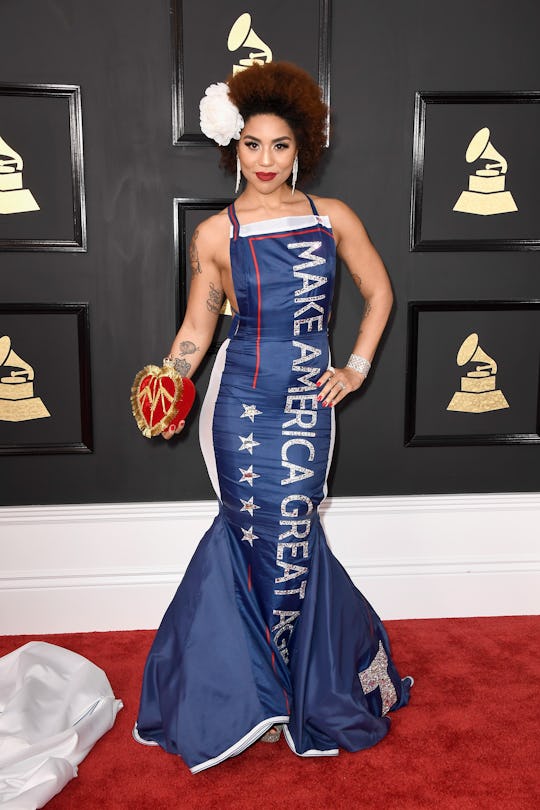 Frazer Harrison/Getty Images Entertainment/Getty Images
Get To Know Joy Villa Beyond Her #MAGA Dress
Getting invited to the Grammys is probably old hat for superstar veterans like Queen Bey and Adele, but for some singer/songwriters, it's a big deal. A chance to be seen, be noticed, and make their voices heard, right? Joy Villa must agree it's an occasion to be noticed in a big way. But oh... who is Joy Villa? The singer/songwriter wore a red, white, and blue "Make America Great Again" dress to the Grammys, and as predicted, it made an unbelievable splash.
Joy Villa, or Princess Joy Villa as she is known in some circles, wasn't nominated for a Grammy at this year's awards. But I think that might mean she's going to have more fun than anyone at tonight's show, right? She doesn't have to worry about winning, losing, or performing. She gets to soak up the fun. And Villa showed up ready to enjoy the party. She was the first celebrity to arrive on the red carpet, and ready to be remembered. Initially walking the red carpet outside the Los Angeles' Staples Center in a long white cape (because who hasn't wanted to do that their whole lives?), Villa swirled herself dramatically out of the cape for the Big Reveal for the photographers:
And then came the #MAGA dress. Also please note: the back of the dress is bedazzled with the name "Trump." For real.
According to her Twitter bio, Villa (also a model and actress on top of being a recording artist) considers herself a feminist. So the dress was ironic? Sincere? The singer hasn't said, but the internet has some feelings about her dress.
Some loved it:
Others (who saw the pro-Trump dress as super off-brand), not so much.
Someone even went so far as to change her Wikipedia page to Joy Villa Trump.
To be fair here, this isn't the first time Villa (whose songs include "Vagabonds," "Get Your Freedom," and "Run and Hide") has shown up wearing buzz worthy dresses to the Grammys.
As for Villa, she shared a preview of her heart-shaped clutch on her Instagram account before the Grammys with the caption:
My whole artistic platform is about LOVE. I couldn't be where I am today without the love and tenderness of those beautiful supporters and friends around me. I hope you enjoy tonight's #grammyawards2017 and remember to forget your problems and focus on the future! You are infinite and beautiful and no one can stop you but you. So go out and celebrate yourself as a winner no matter what, together with those you adore.
Whatever her intention might have been... the singer got our attention. So well done, right?