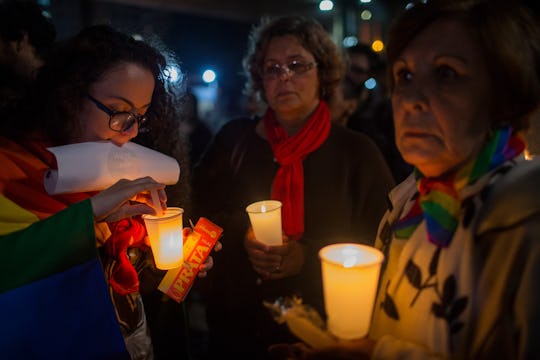 Victor Moriyama/Getty Images News/Getty Images
Who Is Juan P. Rivera Valazquez? The Orlando Victim Was With His Boyfriend When He Died
Saturday night was meant to be a celebration. Juan Pablo Rivera Valazquez was celebrating a friend's birthday at Pulse nightclub. It was Latin Night, and he might have been looking forward to some dancing, a few cocktails, a little bonding with friends to relive over breakfast the next morning. Instead, that birthday celebration would be the last he attended. Juan P. Rivera Valazquez was one of 49 people killed by gunman Omar Meteem at Pulse in the early hours of Sunday morning, along with his life partner Luis Daniel Conde.
Valazquez and Conde were not only life partners but business partners as well. The two were co-owners of Alta Peluqueria D'Magazine Salon & Spa, a full service salon in Kissimmee, according to the Tampa Bay Times. Conde's sister Lynette Conde, told The Tampa Bay Times, "They were both exceptional people. They were always helping each other."
According to Conde's sister, the couple were regulars at Pulse nightclub, visiting several times a month. A friend of Valazquez and Conde, Luis Ruiz, was at Pulse the night of the attack but managed to escape with his life. He told The Tampa Bay Times that he had been standing "right next to them" before he escaped.
"They were that role model couple. They were my good mentors. They had great careers. They weren't just the type who only went out, only went to clubs. They were getting degrees."
Since the shooting five days ago, clients and friends have been delivering flowers to the doorstep of D'Magazine Salon and Spa to honor 37-year-old Valazquez and Conde. According to clients, the couple had been together for 14 years. Jennifer Alzate owns the business next door and has known the couple for some time. She told wesh.com, "They were always together for everything. And now they're going to be together in heaven, sharing sharing that love. It's just so hard."
Another friend, Jocelyn De Leon, told The Orlando Sentinel that the couple were well known around the area and in Puerto Rico, with loyal customers often travelling great distances to visit their salon. Because Valazquez and his partner Conde had a way of making people feel special.
"They would take the shirt off their back to help others. If someone wasn't smiling, they would try to make them smile. They were good, kind people. They never had a [bad word] for anyone.".
Juan Valazquez made it his life's work to helping people feel beautiful and special. The chalk messages on the sidewalk outside D'Magazine Salon are a testament to how he made people feel about themselves. "We will always thank you for making us feel beautiful."
Alexandra Ale had been a client of Valazquez for five years. She told The Orlando Sentinel that Valazquez had offered free salon services to victims of domestic abuse.
"They would just lift you up and make you feel good about yourself," Ale said. "It's not going to be the same without them. They were the life of any moment. We lost good individuals who would have contributed more to this world."