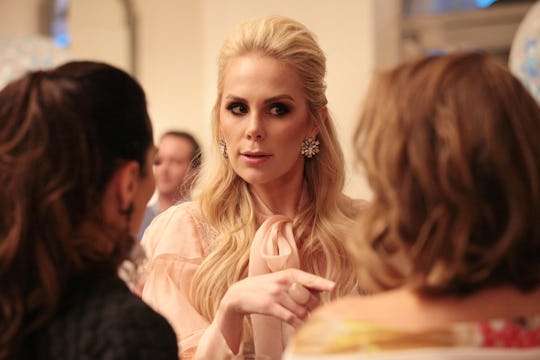 Peter Larsen/Bravo
Kameron Westcott's Mother In Law On 'RHOD' Is Dedicated To Charity Work
Kameron Westcott has been part of an influential Dallas family for years — she married into the Westcott family long before she became an official Real Housewife of Dallas. Her husband is a venture capitalist, but his success might be thanks in part to his roots and his mother's work ethic. So who is Kameron Westcott's mother-in-law on RHOD? Jimmy Westcott is known in Dallas for her charity work and the philanthropist has definitely gained Kameron's admiration for it.
The Westcott family owns and runs Westcott LLC, an investment company, and founded other companies including 1-800-Flowers, First Extended Service Corporation, and Westcott Communications. Jimmy has had a hand in her family's businesses over the years with her now ex-husband, but she's also known for her charity work in Dallas and abroad.
She's served on various philanthropic boards and has given her time and money to countless charities, including The Boys and Girls Club of Greater Dallas, The Center for Brain Health, and the Dallas Children's Advocacy Center.
She was also commissioned by former Texas governor Rick Perry to the Governor's Commission for Women, under which she chaired The Domestic Violence Committee. And she was a past chairman for the Susan G. Komen Breast Cancer Foundation National Awards Luncheon. So there are at least a half dozen reasons for Kameron to admire her mother-in-law's continued work.
In April, Kameron posted on Instagram about Jimmy's award at the 2018 Children's Hope Dinner for Orphan Outreach, a yearly event that Jimmy founded herself. But before that, she was the recipient of a Dallas for Children Children's Champion Award and the Pi Beta Phi Unsung Angel Award. Orphan Outreach seems to be Jimmy's most important cause, however. During her acceptance speech at the Children's Hope Dinner, she stressed the importance in helping orphaned children in the U.S. and in other countries as well.
"People often ask, 'Why orphans? Why orphans in foreign countries?' We all have many groups that we like to help — there are many charities, churches and families that need and deserve our help right here in Dallas, in Texas, and in the U.S.A.,'" she said during her speech. "I too questioned why orphans, but after looking into the faces of the precious kids in Russia and hearing the awful stories about the kids in Guatemala who live in squalor, I had the answer... I believe that our hearts have infinite capacity."
She said that in her eyes, Orphan Outreach has the ability to help kids in Dallas as well as other countries, including Russia and Guatemala.
She explained that her involvement with Orphan Outreach began five years earlier when she took her first mission trip to orphanages in Russia. From there, she began working with the organization more and it's become a clear calling for her. She has worked with her ex-husband in the past on the family's business ventures, but right now, it looks like her charitable causes are the most important thing to her. She's served on a few different boards in Dallas and has become known for her charity work, so there's probably no stopping her now.
Jimmy has involved Kameron in some of her charity work, as she still serves on the boards of several different causes, so there's a chance that RHOD fans will get a closer peek at what Jimmy does for these different organizations. It's also not uncommon for reality stars to use the show as a platform for their personal charitable causes. And given all of Jimmy's work in the past and present, she's definitely an admirable mother-in-law to have around and learn from.