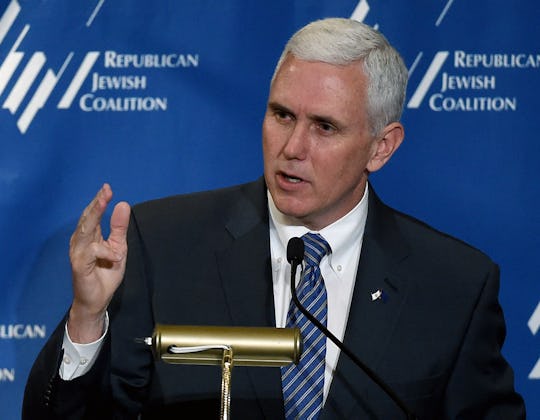 Ethan Miller/Getty Images News/Getty Images
Who Is Karen Pence, Mike Pence's Wife? Indiana's First Lady Has A Lot Going On
When Roll Call reported Thursday that Republican presidential candidate Donald Trump has chosen Indiana Gov. Mike Pence as his running mate, America was full of questions about the supposed VP pick, including who is Karen Pence, Mike Pence's wife? According to In.gov, Indiana's first lady has a full professional life of her own. A school teacher for 25 years, she reportedly spends her time as the state's first spouse visiting schools while running her own business, That's My Towel Charm Inc., which produces charms to help family members keep track of their towel. She's also a watercolor artist, according to In.gov. UPDATE: Trump confirmed Pence as his running mate in a tweet Friday morning and said he would host a news conference on Saturday.
According to The Indianapolis Star, Karen Pence met her husband in the mid-'80s. Mike Pence made a name for himself as a Republican member of Congress who was willing to break party lines when it made sense to him to do so. His congressional experience in particular made him an attractive VP choice for Trump, according to The Star. According to Roll Call, Trump was impressed by Pence's "calm demeanor" in their recent meetings.
On Twitter Thursday, Trump's senior communications advisor, Jason Miller, stated, "A decision has not been made by Mr. Trump. He will be making a decision in the future and will be announcing his Vice Presidential pick tomorrow at 11 am as planned," but already voters are interested in the Indiana governor's career and personal life leading into the Republican National Convention next week.
A big player in Gov. Pence's personal life, and because he is a politician whose life is to some degree in the public eye, his professional life is of course his spouse. In addition to visiting schools around Indiana to promote education, Karen is involved in several nonprofit organizations. According to In.gov, she is the honorary chair of the Art Therapy Initiative at Riley Children's Hospital and serves on the board of Tracy's Kids, an organization that provides art therapy at children's hospitals around Washington, D.C. Karen also started the Indiana First Lady's Charitable Foundation, which provides grants each year to organizations that aid Indiana children and families.
Karen and Mike Pence have three children together, all adults, according to The Hill. Their oldest child, Michael, is a U.S. Marine. Their youngest, Audrey, holds socially liberal political views, in contrast to her father's, Indiana's WTHR reported in 2013.
Karen, who grew up in Indianapolis, told WTHR that her biggest concern about her husband becoming governor was the loss of privacy it would entail for her and her family. "I am just going to get over it and realize the never four years we are going to be in the public eye and we want to make the most of it," she said. If Pence is indeed Trump's VP pick, and the two win in November, she will likely be forced to surrender even more privacy, but there's a long campaign trail between now and then.