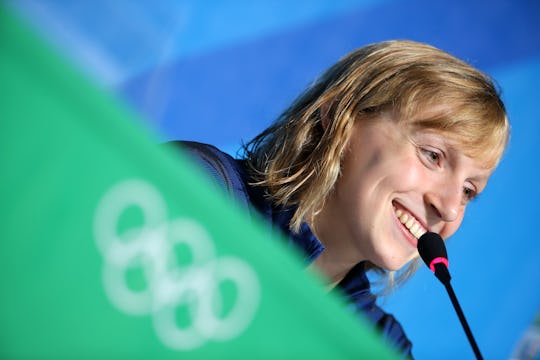 Chris Graythen/Getty Images Sport/Getty Images
Who Is Katie Ledecky Dating? She's Head Over Heels For The Love Of Her Life
At only 19 years old, world champion swimmer Katie Ledecky has been making waves in Olympic swimming — and not just at this year's Summer Olympic games in Rio de Janeiro, Brazil. Her Olympic debut in the 2012 London Olympics took the world by storm, as her gold medals and blazingly fast world swim records stunned her competition — and she was just 15 years old at the time. But what about when Ledecky isn't breaking world records in the pool? She could court suitors from around the world with her international success, so who is Katie Ledecky dating?
Sorry, boys and girls — Ledecky's taken, and her beloved's initials are T.P. Nope, her amore isn't Olympic basketball player Tony Parker or Hollywood stuntwoman Tarah Paige. Breaking and holding her many world records means that Ledecky spends almost all of her time with the love of her life: The Pool. The fact of the matter is that no matter how attractive Ledecky's romantic prospects might be, her first love is always going to be the pool, and after her second incredibly successful Olympics competition in Rio, it's obvious their relationship is rock solid and isn't going anywhere. Speaking to Vogue magazine in March, Ledecky's father, David, said, "She doesn't have a lot of time on land."
Her father isn't kidding: According to her profile in Vogue, Ledecky is in bed by 9:30 p.m. most nights, as she wakes before dawn to train for a few hours at the pool. Her love of swimming isn't new, either: Ledecky has been swimming since she was 6 years old. Despite her throngs of fans around the world, Olympic swim coach Jon Urbanchek told The Los Angeles Times, "If you spotted her walking down the street, you couldn't tell who she is."
The article continued, sharing a light-hearted anecdote about Ledecky's camouflaged celebrity:
During U.S. training camp in Atlanta last month, Ledecky and a few teammates visited a mall. Two women asked Ledecky to take their picture — without her. They had no idea who she was, without the instant recognition and swarm of autograph seekers that [Michael] Phelps or [Missy] Franklin can attract.
As Ledecky prepares to start her freshman year of college at Stanford University this fall, it's doubtful her relationship with the pool will take a break, much less come to an end — she'll join U.S. Olympic teammate and fellow gold medalist Simone Manuel on the Stanford Cardinals swim team. Between hitting the books and hitting the pool, it seems like there's going to be very little time left in the day for Ledecky to devote to romantic interests — but that doesn't mean fans can't hold out hope: