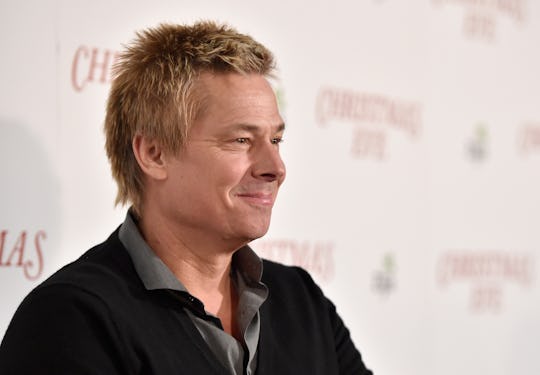 Alberto E. Rodriguez/Getty Images Entertainment/Getty Images
'Celebrity Big Brother' Casts Kato Kaelin, The O.J. Simpson Trial Witness
Celebrity Big Brother is back for Season 2, with a brand new mishmosh of celebrities moving into the house to compete for the grand prize. One celeb joining the house this season is Kato Kaelin, whose name may sound familiar, though a bit hard to place. So, who is Celebrity Big Brother's Kato Kaelin?
Kato first came into public recognition in the mid-'90s, when he served as a witness in the O. J. Simpson murder trial. Simpson was on trial for allegedly murdering his ex-wife Nicole Brown Simpson and her friend Ron Goldman. At the time of the murder, Kato was staying in Simpson's guesthouse, according to an archived article from People. The outlet reported that Kato was friends with both Simpson and Nicole. During his fourth day on the witness stand in March 1995, Deputy District Attorney Marcia Clark requested permission from Judge Lance Ito to treat Kato as a hostile witness, which he granted, the Chicago Tribune reported at the time. This meant she was allowed to cross-examine Kato and ask him leading questions (ones that suggest the correct answer), since his memories of the day of the murder were not quite adding up.
From there, Kato gained public notoriety. According to Vanity Fair, a poll conducted in 1995 found that 74 percent of Americans could identify Kato, while only 25 percent could identify Al Gore, who was Vice President at the time. Goodness me.
Following the trial, Kato was able to parlay his name recognition into an acting career. He appeared on TV shows including Beggars and Choosers, Norm, Mr. Show with Bob and David, and Sabrina, the Teenage Witch, as well as movies including Beach Fever, National Lampoon's Dorm Daze 2, and The Still Life, as per his IMDb. Additionally, Celebrity Big Brother is not Kato's first foray into reality TV. He has appeared on reality shows including Celebrity Boot Camp, Sunset Tan, House Guest, and Gimme My Reality Show.
Taking all that into account, it makes a lot of sense that Kato is joining Celebrity Big Brother — and he'll be in some very notable company this season. As reported by E! News, other celebs joining the cast include: Jonathan Bennett (Aaron Samuels from Mean Girls), Kandi Burruss (of Real Housewives of Atlanta), Olympic athletes Ryan Lochte and Lolo Jones, Dina Lohan (Lindsay's mom), actor Joey Lawrence, and Anthony Scaramucci (Trump's former White House Communications Director).
For those unfamiliar with Celebrity Big Brother, here's how it works. The show puts a ragtag group of celebrities together in a house "outfitted with 87 HD cameras and more than 100 microphones, recording their every move 24 hours a day," according to CBS' website. Every week, the group will vote on who should be kicked out of the house. The last celeb standing wins a prize of $250,000. But in the meantime, each competitor will be paid a participation fee of $100,000, TMZ reported. OK, now I understand why these people are doing this show. Any chance the Celebrity Big Brother producers have room for one more competitor? Say, I don't know, a reporter?
This season of Celebrity Big Brother will premiere on Monday, Jan. 21 at 8 p.m. on CBS, with episodes airing multiple days a week up until the season finale on Feb. 13, as per CBS. You can follow the show's schedule on the CBS website. Here's hoping Kato's time living in the Big Brother house is less dramatic than his stay at the Simpson's infamous guesthouse.