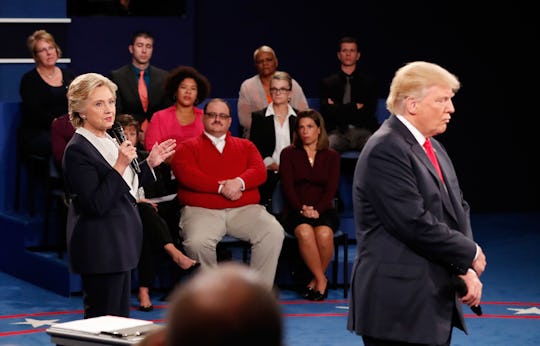 Pool/Getty Images News/Getty Images
Who Is Ken Bone Voting For? He Certainly Has The Country's Attention
The second presidential debate last Sunday was undoubtedly filled with contentious and uncomfortable exchanges. While Republican Party presidential nominee Donald Trump and Democratic Party presidential nominee Hillary Clinton battled it out on the debate stage, an internet sensation was born – and it certainly wasn't either presidential nominee. It was an audience member named Ken Bone, arguably the internet's hero on Sunday night. During the town hall-styled debate, Bone, an undecided voter at the time, asked both nominees an environment-related question, but that's not what won the internet over. In fact, it's hard to pinpoint Bones' celebrity "it" factor. We'll cover some of his most memorable moments in a bit, but first, who is Bone voting for? He entered the town hall undecided, and left with the country's attention.
Bone, from St. Louis, has been doing rounds of press since his newfound fame following the second presidential debate. He appeared on Jimmy Kimmel Live! on Monday night to discuss his rise to stardom, and his status as an undecided voter. But apparently the debate didn't help Bone make a decision. He told Kimmel he was "more undecided" than he was before.
"Everyone doesn't like it that much but I think I'm more undecided than I was before," he said. "I had to kind of put my head down while mom and dad were arguing over Thanksgiving dinner last night." When asked if he's an indecisive person in general, Bone continued, "Not usually, this is an unusual political cycle, it's been so negative. I try to really base most of my decisions on positive things, and neither of them have given me many."
Bone elaborated that he feels Trump's economic policies are more aligned with his interests as someone who works in the coal power industry. However, he's concerned that a potential Trump-Supreme-Court nominee could put nationwide marriage equality at risk.
In an interview with MSNBC on Tuesday, Bone reiterated that he's still torn on who to support in the presidential election, but he'd like to publicly encourage people across the country to vote — you know, given his grand platform and all.
I'm happy to do as much media as people need me to, to talk about the process and talk about getting people out to vote... but I'm willing to state that I will not endorse either candidate, and you will not hear me saying who I'm going to vote for before the election is over – if you hear that, it's not me.
OK, so Bone is going to keep his journey on choosing a presidential nominee private, but his many memorable moments will forever be public for the world to enjoy.
In case you missed Bone's lovable moments, here's a quick list explaining why Bone became the internet's darling:
Bone was clearly just the breath of fresh air America needed in the midst of a fiery debate night. And he's a reminder that a backup outfit can actually help change your life for the better.