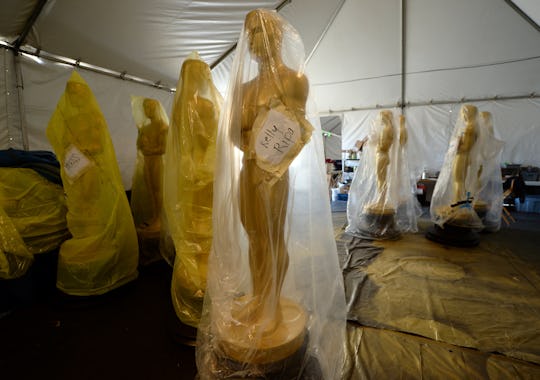 Kevork Djansezian/Getty Images Entertainment/Getty Images
Oscar Nominated Cinematographer Barred From US
The 2017 Oscars will be live on Sunday night, and the world is gearing up for the big event. Nominees are preparing speeches in case they win, and bland expressions of boredom in case they lose. Fans are prepping their Oscar pools, buying guacamole for their Oscar parties. But there is at least one man who won't be celebrating: Khaled Khatib. If you're wondering who Khaled Khatib is, he is a Syrian first responder and an Oscar-nominated cinematographer. And Homeland Security just barred him from entering the country.
The 21-year-old Khatib was the cinematographer of White Helmets, a Syrian civil war documentary which aired on Netflix. The harrowing 40-minute film has been nominated for Best Documentary, Short Subject. The film follows volunteer first responders for the Syrian Civil Defense, the "White Helmets." These rescue workers (who were nominated for a Nobel Peace Prize in 2016) are in constant danger, as was the film crew documenting their efforts to help dig through rubble to find survivors of bombing attacks. Khaled Khatib was just 16 years old when he began working on the film.
Khatib was scheduled to arrive in Los Angeles on Sunday, on Turkish Airlines, ahead of the awards show, but has been barred entry by U.S. immigration authorities. The Associated Press obtained documents from the Trump administration which reportedly alleged that "derogatory information" was found involving Khatib. However, as the outlet pointed out, this is considered a broad statement that could mean anything from suspected attacks to general passport irregularities. When the Associated Press asked Homeland Security for comment, spokeswoman Gillian Christensen said only,
A valid travel document is required for travel to the United States.
Khatib was, in fact, granted a U.S. visa along with other members of the White Helmets crew, after a judge suspended the travel ban on seven Muslim majority countries (including Syria) the Trump administration had earlier imposed. Despite being granted visas to travel to the United States, some crew members were less than excited about the prospect of entering the country. Crew member Raed Saleh told the Agence France-Presse (AFP) during a phone interview,
We got our visas yesterday [Friday], but we're not yet sure if we'll be able to travel or not. We don't want to have problems at the borders or the airport.
According to the documents uncovered by the AP, Khatib now needs a new passport waiver to enter the country. He was detained by authorities in Istanbul, Turkey last week, and his whereabouts are unknown. Raed Saleh, who was expected to travel with Khatib on Friday, tweeted that the two were not attending the Oscars because they were busy helping "civilians and rescue operations in Syria."
When word spread of Khatib being barred entry to the United States for the Oscars, a statement was released by the directors of the five foreign movie categories nominated at the Oscars harshly criticizing the Trump administration's views on foreigners:
We believe there is no best country, best gender, best religion or best color. We want this award to stand as a symbol of the unity between nations and the freedom of the arts. Human rights are not something you have to apply for. They simply exist — for everybody.
As for Khatib, he was excited about going to his first Oscars. According to The Huffington Post he initially stated,
If we win this award, it will show people across Syria that people around the world support them. It will give courage to every volunteer who wakes up every morning to run towards bombs.
So what will Khatib's absence say to those same volunteers?