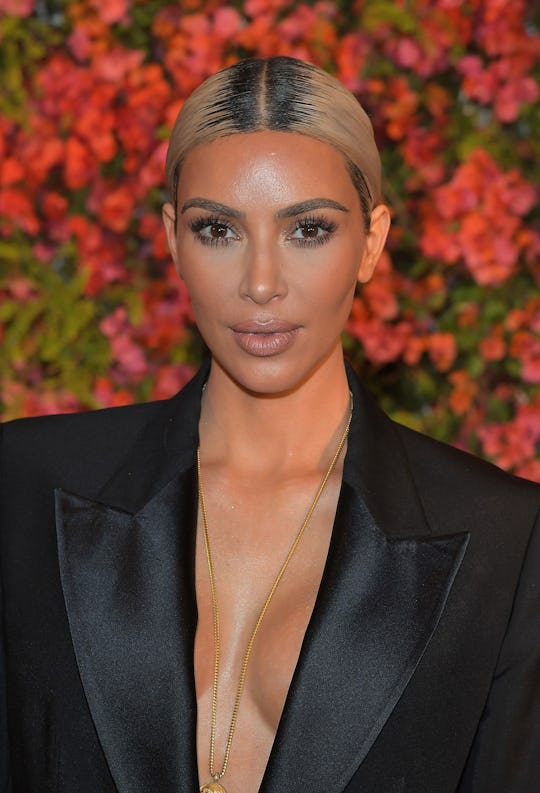 Charley Gallay/Getty Images Entertainment/Getty Images
The Moment Kim Kardashian's Surrogate Met Her Family On 'KUWTK' Is So, So Sweet
The season finale of Keeping Up With The Kardashians on Sunday night answered so many questions that fans have been asking for months. For example, fans finally learned who Kim Kardashian's surrogate is when she met the famed family. Needless to say, fans were quite shocked that her identity had been revealed after all this time. Of course, tabloids had done a deep dive into all things Kim and Kanye West's surrogate well before tonight's episode, but it was great to put a name to all those rumors once and for all.
On Sunday night's episode, Kim introduced her surrogate — who's been identified as La'Reina Haynes, according to Heavy — to the rest of her family. Although this was the first time that her identity had been revealed, this is hardly the only time that Kim has spoken about her and she seemed so thrilled to finally introduce her to her family — and her legion of fans, of course — on the KUWTK finale. "I was so excited for my family to meet my surrogate She's the best!" Kim tweeted on Sunday night.
Even just from that brief moment shown on tonight's episode, it's clear that she feels she chose the perfect person to carry her and Kanye's third child, a decision that understandably took them months to make, as People reported.
Kim explained during tonight's episode that her surrogate was in town for a doctor's appointment and she "thought it would be an amazing time" for her to meet her family "but still not expose who she is to the world, just for her safety," she said, according to E! News.
"This has been such a long journey for us and something that I wanted for so long and I share everything with my family," she continued, according to E! News, adding about her experience with surrogacy:
It was definitely not as easy as I thought it would be emotionally, but it is so worth it and our surrogate is such a nice person. My family absolutely loves her and I'm just so grateful. ... Surrogacy is such a beautiful thing and we're just so excited to welcome our baby girl.
Kim's surrogate, who was only introduced as La'Reina during the episode, also opened up about what it's like to be pregnant with another family's child after Khloe asked her if it's "super depressing" after giving birth. She explained, according to E! News, that her joy and satisfaction from the experience comes from being able to help another family grow. She told the family during the episode, according to E! News:
So when the baby comes out they're like, "OK, well do you want skin on skin?" I'm like, "No, let her go to her mom." I know what my job is in all of it, you know what I'm saying? It makes me important because I'm like, "Wow, I did something so good. This is beautiful. Like I would do this again a thousand more times."
Not much was revealed about Kim's surrogate during the episode other than the fact that she has two children of her own and had been a surrogate once before. And if you were keeping up with Kimye Baby Watch, some of what was reported about Kim's surrogate turned out to be true, though considering that the fact that her face wasn't even fully on camera during the episode, it appears that Kim and her surrogate still want to try to maintain some sort of privacy.
Kim and Kanye's third child, a daughter named Chicago, was born via surrogate on Jan. 15, as People reported. "We are incredibly grateful to our surrogate who made our dreams come true with the greatest gift one could give and to our wonderful doctors and nurses for their special care," Kim wrote of her surrogate when announcing the birth of the daughter.
After seeing tonight's adorable moment unfold, it's so easy to see why Kim and Kanye settled on their surrogate and why Kim is still gushing about her today.
Check out Romper's new video series, Bearing The Motherload, where disagreeing parents from different sides of an issue sit down with a mediator and talk about how to support (and not judge) each other's parenting perspectives. New episodes air Mondays on Facebook.