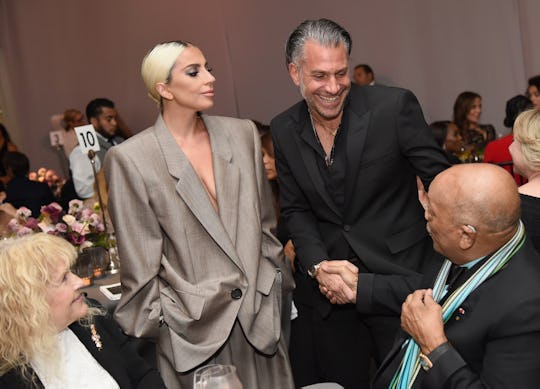 Michael Kovac/Getty Images Entertainment/Getty Images
Here's What You Need To Know About Lady Gaga's Fiancé, Christian Carino
About two months ago, Lady Gaga revealed to fans that her boyfriend was much more than just her boyfriend. In a speech, she casually mentioned that she and Christian Carino were actually engaged. So for fans wondering who Lady Gaga's boyfriend Christian Carino is, it would be more accurate to ask who her fiancé is.
Christian Carino, 49, is a talent agent at Creative Artists Agency (CAA), a Los Angeles-based talent agency, according to Vogue. Carino represents Lady Gaga at CAA, in addition to other A-listers including Britney Spears, Justin Bieber, Miley Cyrus, Reese Witherspoon, Johnny Depp, Christina Aguilera, and Jennifer Lopez, as per Newsweek.
And Carino is clearly smitten with Gaga. For one thing, his Instagram is filled with photos of his bae. For example, in August, he captioned a gorgeous shot of Gaga in the ocean, "believe in fairy tales." And in January, Carino captioned a photo of the two of them kissing "home." Just days before, he shared a Beau Taplin quote on Instagram: "Home is not where you are from, it is where you belong. Some of us travel the whole world to find it. Others, find it in a person." Not only does Carino like showing off pictures of Gaga on social media, but he enjoys doing so on his body as well. He has an image of Gaga wearing a black corset and her her hair black and in pigtails tattooed on his arm, according to Cosmopolitan.
He's also a huge supporter of Lady Gaga's music career. According to People, Carino joined Gaga for parts of her Joanne world tour, and he's also been present at the studio while she's recorded music. He made his love for her music clear in December 2017, when he captioned an Instagram photo of her performing, "She is the Cure."
Rumors that Gaga and Carino were dating first emerged shortly after the 2017 Super Bowl, where Lady Gaga headlined the halftime show. Photos of the talent agent kissing Gaga on the cheek before her performance emerged online, and Us Weekly reported that the two were in a relationship. After that, Gaga and Carino were publicly photographed together at multiple events, sometimes kissing.
Lady Gaga was previously in a relationship with actor Taylor Kinney for five years (and engaged to him for the fifth year of their relationship). She opened up about having her heart broken by multiple men that she's loved in her documentary Five Foot Two. "I can't help but realize that when I sold 10 million records, I lost Matt. I sell 30 million, I lose Luc. You know?" she said in the documentary, as per Billboard.
Like Gaga, Carino has also been in several notable relationships. He was previously linked to Amber Heard and Walking Dead actress Lauren Cohan, and he was also married to a woman named Brooke Baldwin (not the CNN anchor, People clarified) from 1997 to 2015, as per Cosmpolitan. Carino and Baldwin separated in 2013, and they share two daughters named Isabella and Lola, People added.
Finally, Lady Gaga announced her engagement to Carino in the coolest way possible. In mid-October of this year, Lady Gaga attended Elle's 25th annual Women In Hollywood Gala. She was actually being honored at the event, and in her speech there, she thanked, "my fiancé Christian," according to The Hollywood Reporter. She had a large pink engagement ring on her hand during the speech, the outlet added.
No word yet on when Lady Gaga and Christian Carino plan to tie the knot, but it's safe to say their wedding will be the event of the year.
After experiencing a traumatic c-section, this mother sought out a doula to support her through her second child's delivery. Watch as that doula helps this mom reclaim the birth she felt robbed of with her first child, in Episode Three of Romper's Doula Diaries, Season Two, below. Visit Bustle Digital Group's YouTube page for more episodes, launching Mondays in December.