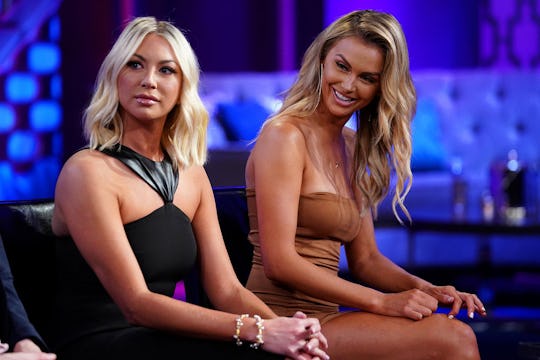 Nicole Weingart/Bravo
LaLa's Boyfriend On 'Vanderpump Rules' Has An Impressive Resume
When LaLa Kent started dating Randall Emmett during Season 4 of Vanderpump Rules, she was extremely secretive about the romance. She wouldn't refer to him by name and he certainly didn't appear on the show at the time. Later, it was revealed that it was because he'd been going through a divorce, but now that their relationship is out in the open, fans are going to be wondering more than ever who LaLa's boyfriend on Vanderpump Rules is. Randall Emmett is a producer and the co-founder of MoviePass Films, so it's not all that surprising that LaLa, an actress herself, would eventually cross paths with him.
The company is most well known for its movie theater ticket subscription service, but they recently announced a foray into the movie making business. And, according to Deadline, MoviePass Films' first movie is going to star Bruce Willis, so it's definitely the real deal. In the past, the company has also helped fund and produce the movies Lone Survivor and End of Watch. Emmett founded the company in 1998 as Emmett/Furla Films with partner George Furla. Later, it became Emmett/Furla/Oasis Films with the addition of Oasis Ventures Entertainment, which eventually led to where it's at today.
At the time, Emmett told Variety, "We are excited about working with Oasis and really see tremendous synergy. We will continue financing our bigger budget studio co-productions and will be more aggressive than ever in our financing commitments." And apparently, with the re-branding as MoviePass Studios, the producer is living up to his word.
Since Emmett is more of a behind the scenes player in show business, chances are, you haven't seen him in anything, but he's done plenty of producing work behind the scenes of past big budget movies and the current Starz drama, Power. He does, however, mingle with some big names like 50 Cent through Power and Matt Damon via celebrity poker tournaments. I guess you could say that he runs in some elite circles.
Although Emmett hasn't yet been on Vanderpump Rules, he's been a big part of LaLa's life for the past few years. So much so that in September he asked her to marry him. In an Instagram post celebrating their engagement, LaLa wrote, "Last night was the best night of my entire life. I got engaged to the man of my dreams. I get to call this amazing human my fiancé! An engagement last night, my birthday today, and every sign my dad could possibly send me to let me know he's here. I'm the happiest girl in the world."
Months before the proposal, LaLa said on The Jenny McCarthy Show on SiriusXM that Emmett asked for her father's permission to propose before he passed away. It's hard to say what the couple's relationship is really like, especially since Emmett has yet to appear on the show, but they seem like the real deal.
Before Emmett was ever engaged to LaLa, however, he was first married to actress Ambyr Childers with whom he has two kids. Their divorce was finalized in December 2017 and, Emmett's rep told Page Six, "It was an amicable divorce. They have a healthy co-parenting relationship for their children." And besides photos of LaLa and his declarations of love for her on his Instagram, Emmett has tons of photos of his two daughters and seems to be a doting dad to the highest degree.
The fact that he has small children might be his reasoning for shying away from the show thus far, but now that he and LaLa are officially engaged, that could change. At least, I certainly hope it does.
This first-time mom wants to have a home birth, but is she ready? Watch how a doula supports a military mom who's determined to have a home birth in Episode One of Romper's Doula Diaries, Season Two, below. Visit Bustle Digital Group's YouTube page for the next three episodes, launching Mondays in December.