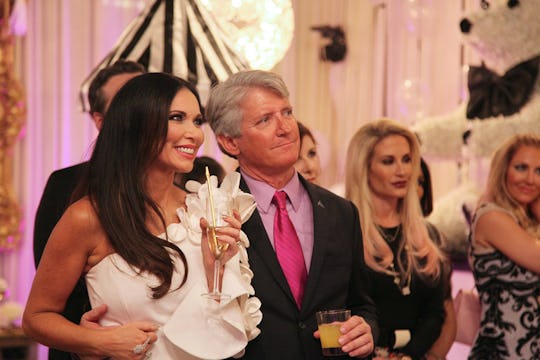 Peter Larsen/Bravo
Everything You Need To Know About LeeAnne Locken's Fiance On 'RHOD'
LeeAnne Locken is finally getting to plan the wedding of her dreams — insisting that with a $250,000 budget, she isn't going all out — but that hasn't stopped the other Dallas Housewives from speculating about the strength of her relationship. So who is LeeAnne Locken's fiance on RHOD? Even though he's taking some heat on the show right now, he's used to the pitfalls of reality TV. Prior to Real Housewives of Dallas and his retirement from the Dallas Police Department, Rich Emberlin starred on A&E's three-season docuseries Dallas SWAT, which eventually spurned two spinoffs in Detroit and Kansas City.
According to The North Texan, the student newspaper of Rich's alma mater, Rich worked "as a patrol officer, in field training, and in undercover narcotics" on the SWAT team for 15 years before "transferring...to work in criminal intelligence with the police department's dignitary protection unit." He initially had aspirations of joining the Air Force, according to The North Texan, but taking a BB pellet to the eye impaired his vision, which prevented him from undertaking flight training.
In 2016, Rich completely lost sight in his eye after another injury in the field, which LeeAnne said contributed to the delay in their wedding planning on a recent RHOD episode.
"At the moment, why I haven't pushed to move forward with a wedding date is that it's been very difficult with him being blinded," she said during a dinner on the group trip to Colorado, according to People. "Here's the thing, he's not in a happy place. It affects him and we are together. So I'm just being patient."
She and Rich have been together for nine years, but he's three-times divorced, so LeeAnne admitted some personal trepidation in moving forward, too. Given her history of self-destructive tendencies, she admitted to the group that she worried about torpedoing the relationship:
I've been single for 50 years. I've never been married before. Rich has been married three times. I have no doubt in my mind that this is my soulmate but I also don't want to put him in a position where it's going to make him want to divorce me and leave me... He's divorced three people so he's obviously accepted that divorce is an option.
Rich also has a 20-year-old daughter from a previous relationship named Elise, according to Bravo, but she and LeeAnne appear to be on great terms. Viewers met her briefly in Season 1, when LeeAnne said of her future step-daughter, "She's doing great. She's an angel. What I love about Elise is Elise is so much like her father. She's just smart, quick-witted. Elise is fabulous."
D'Andra, LeeAnne's oldest friend in the group, didn't exactly buy her excuse about putting off the wedding, and thought the real reason behind the delay was because Rich didn't actually want to get married again. She theorized that he only proposed to placate LeeAnne, and even confronts LeeAnne in a future episode about rumors that Rich is cheating.
LeeAnne admits that Rich isn't really about the socialite lifestyle so he usually stays home while she's out, according to People, but she firmly believes in his fidelity. Fans will have to stay tuned to see how her conflict with D'Andra shakes out.