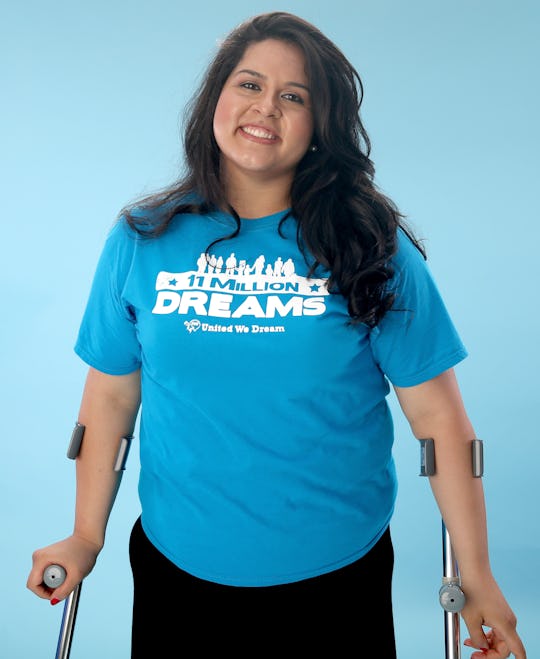 Christopher Polk/Getty Images Entertainment/Getty Images
Who Is Lorella Praeli? She's A Proud American, Of Course
She was born in Peru and moved to the United States when she was 10 years old. Her mother was a psychiatrist in Peru, and became a housekeeper in Connecticut, working night and day to make sure their lives were comfortable ones. She was an undocumented immigrant for 13 years of her life. But oh, how things have changed. If you're wondering who Lorella Praeli is, the first thing you should know is that today, she is an American.
In December of 2015, Praeli, who has become a prominent activist for immigrants, took her citizenship oath. She took the oath with 31 other new Americans, and was sworn in by none other than President Obama himself. It was a powerful moment at the end of a journey for Praeli, a moment she had been working towards for most of her young life. Her strength, her passion, and her conviction to continue to work as an advocate for undocumented immigrants did more than help her become a citizen of America; those qualities caught the attention of Hillary Clinton. Lorella Praeli initially made the news in 2015 when Democratic Presidential candidate Hillary Clinton tapped her as her Latino Outreach Director. The Hillary for America National Political Director Amanda Renteria issued a statement at the time to welcome the 26-year-old Praeli to Clinton's team.
We are thrilled to have Lorella Praeli, a DREAMer, join our team because of her courage and perspective in the fight for Latino families across the country.
She spoke at the Democratic National Convention on Thursday evening. When speaking to the millions of viewers, both in the Wells Fargo convention center and at home, Praeli talked about what it meant to her to become an American;
Back in Peru, my mother, Chela, was a psychologist. But here in America, she's worked cleaning houses for the last 17 years, from morning to night, carrying the American spirit in her heart. She, like so many millions of parents across this country, worked so that my sister and I could have a full life. She has taught me to never give up, to believe in my dreams, and to fight to achieve them. In short, it was my undocumented mother that taught me what it is to be an American.
That's why I'm fighting for Hillary Clinton. Because she never gives up. Because she believes in our dreams, and because she will fight to achieve them.
Praeli has seen her share of hardships in this life. At two-years-old she lost her leg in an accident. Her father wanted the best treatment possible for her and brought her to Orlando, where he hoped the Shriners would help his undocumented daughter when other refused. They accepted her into the treatment program, and her parents eventually moved from Peru to the United States. Not only to provide their daughter with proper treatment, but also to provide her with more opportunity, and even while living as an undocumented immigrant that is exactly what Praeli did.
She graduated summa cum laude from Quinnipiac University and eventually found her calling as Advocacy and Policy director for one of the nation's biggest immigrant youth organizations United We Dream. It was there that Preali found her voice, as she worked towards helping 11 million undocumented immigrants gain their citizenship.
And she will continue to work towards her goal with the Clinton campaign. This time around... as an American.