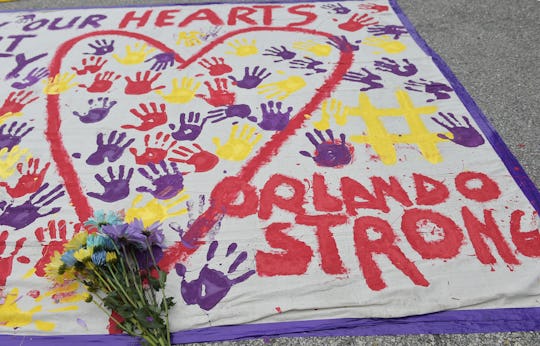 MANDEL NGAN/AFP/Getty Images
Who Is Luis S. Vielma? Police Have Identified Him As One Of The Orlando Shooting Victims
In the early morning hours on Sunday, a lone gunman, who had allegedly pledged his allegiance to ISIS and was reportedly set on carrying out a radical agenda of his own, stormed into an LGBT nightclub in Orlando, Florida and opened fire, killing at least 5o people. An additional 53 people were injured in the shooting. One of the names on the list of deceased was that of Luis S. Vielma, a 22-year-old man who was among the tragic list of fatalities released on Sunday afternoon.
(Update: The FBI has updated the death toll to 49 victims. The shooter was also killed.)
While personal details about Vielma were initially scarce, snippets of commentary over on Facebook began to paint a picture of who the 22-year-old was. Some recalled conversations they'd had with him only recently; Others shared memories of him as a kindhearted young man.
Vielma was among a growing list of victims that continued to expand as the day wore on. Joining him were Peter O. Gonzalez-Cruz, 22; Juan Ramon Guerrero, 22; Luis Omar Ocasio-Capo, 20; Eric Ivan Ortiz-Rivera, 36; Edward Sotomayor Jr., 34; and Stanley Almodovar III, 23. Not much is known about the first four men, but the latter two have were listed as Sarasota and Clermont residents, respectively, according to NPR. Social media profiles showed that Sotomayor had been a national brand manager for ALandChuck Travel; Almodovar had been a pharmacy technician.
In a Facebook profile listed under his name, Vielma had posted a picture of himself with friends at Disney World. In the photo's caption, the 22-year-old had written, "True friends who become family." According to The Daily Beast, friends posting on social media had written that Vielma was "a joy to be around."
The June 12 shooting has officially been classified as the deadliest shooting in U.S. history, topping out the list of such tragic and headline-grabbing incidents as the April 2007 Virginia Tech shooting, in which 32 people were killed, and the December 2012 Sandy Hook Elementary shooting, in which 26 people were killed — 20 of whom were young students.
In a televised news conference on Sunday afternoon, President Obama noted of the victims and their families,
In the coming hours and days, we'll learn about the victims of this tragedy. Their names. Their faces. Who they were. The joy that they brought to families and to friends, and the difference that they made in this world. Say a prayer for them and say a prayer for their families — that God give them the strength to bear the unbearable. And that He give us all the strength to be there for them, and the strength and courage to change. We need to demonstrate that we are defined more — as a country — by the way they lived their lives than by the hate of the man who took them from us.
Together with Luis Vielma's family and friends, the nation mourns and builds itself again in his image and memory.