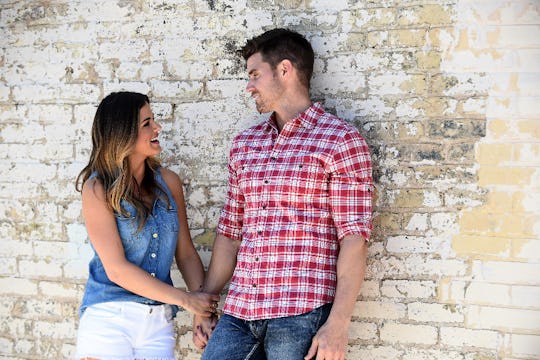 Felicia Graham/ABC
Who Is Luke From 'The Bachelorette' Dating Now? He May Or May Not Be With JoJo
As we near the end of The Bachelorette 12 and approach the always-entertaining hometown dates episode in Week 7, fans are searching for any and every clue about who JoJo Fletcher's final pick might have been. At this point, rumors are flying but (as usual) nothing has been confirmed (and likely won't be prior to the airing of the final rose ceremony). Of the remaining four, Luke seems like hands-down the best (and by far the most unproblematic) pick to win JoJo's heart, so I'm putting my money on him. To investigate, I did a little social media sleuthing to see if there are any clues about who Luke from The Bachelorette is dating now.
Luke is active on social media (particularly Instagram), which makes a lot of sense given that he's pursuing his career in music (something that relies heavily on building an online presence). He's got public Instagram, Twitter, and Facebook accounts, and unlike several of the other guys who either scrubbed their old accounts or deleted them entirely pre-Bachelorette, Luke has plenty of pics and posts from his time before dating JoJo. His current Facebook profile even has photos and posts dating back to 2005, so you know it's legit.
Despite being very active online, there are next to no photos or posts signifying Luke's romantic attachments, suggesting that he might just not be the type to share about his love life. Of course, contestants who are still "in the running" as the season airs aren't allowed to date publicly, given that doing so spoils the fact that they weren't the winner in the end. Similarly, if Luke did in fact win JoJo's heart during filming, the two can't be seen together at all, lest the whole season be spoiled.
Still, sometimes contestants slip up and allow themselves to be seen with other women (despite contractual obligations not to), as was the case with James Taylor. All-around sweetheart and fan fave James broke all of our collective hearts when he was spotted making out with a mystery girl outside of a church after one of his performances, shortly before his elimination episode had actually aired. Oops. Even the season leads occasionally make a mistake – like Bachelorette 11 Kaitlyn Bristowe and her accidental Snapchat spoiler last year. Double oops.
If Luke was eliminated, he's either not dating anyone because he's focused on his music, or is very, very good about keeping it under wraps, given that he's now a public, recognizable figure. If he's currently engaged to JoJo now (fingers crossed!), it makes sense that he wouldn't be snapping pics and tweeting about "his fiancée JoJo." There are no hints from JoJo about who she might have chosen in the end either.
Though Luke does have plenty of photos with women (lately, mostly fans and admirers), there are two particularly special ladies in his life – his mother Susie and his sister Abbie, who we're likely to meet during Luke's hometown date.
Luke is apparently very close to his family, so it makes sense that many of his posts on social media would involve him spending quality time with them. Clearly, Luke bringing JoJo home to meet his adorable fam is going to be a really significant turning point in their relationship, one way or another. At least if JoJo decides that Luke isn't the guy for her, he's basically a shoo-in for the 2017 Bachelor spot.