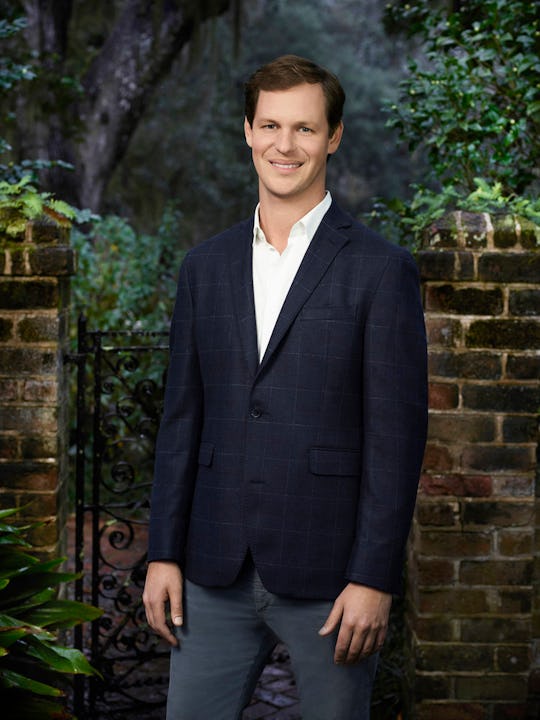 Virginia Sherwood/Bravo
Lyle Mackenzie Is On A Mission In 'Southern Charm Savannah'
In the trailer for the newest Southern Charm spin-off, Savannah is referred to as "the ugly stepchild of Charleston," but judging by everything I've seen so far of the promos for Southern Charm Savannah, it seems like another classy, dramatic place for a group of southerners to cause trouble in. Speaking of which, fans are no doubt going to be wondering about some of the men of the new show, including who Lyle Mackenzie is on Southern Charm Savannah.
On the surface, he seems like a baby-faced, genuinely good guy, but according to his Bravo bio, Lyle also has a wild streak that he's trying to keep in check in order to settle down for good with fellow cast member Catherine Cooper. That whole wild streak thing might not seem true, given Lyle's ability to dress like he's going to a fancy brunch half of the time, but in another promo for Southern Charm Savannah, he lists all the places in Catherine's family's home they used to fool around in behind her parents' backs, so he's definitely not the choir boy he sometimes comes across as.
Like most of the other cast members, Lyle attended the Savannah Country Day School as a kid, though he was eventually kicked out. But even so, he went on to graduate from Armstrong State University in Savannah and after working at a Fortune 500 company, eventually returned home to Savannah.
According to his LinkedIn profile, Lyle now works as the Director of Sales for Buy-Rite Salon and Spa Equipment in Savannah and apparently his big thing for the first season of Southern Charm Savannah is winning back Catherine for good. In the trailer for the season, he's even seen asking someone's dad for permission to propose and I can only assume it's in regards to her.
On his Instagram, he recently posted a photo of himself with some friends, including Catherine, in Hilton Head, South Carolina, so either he succeeds during the show's first season or they're still doing the on again/off again thing. Either way, I'm pretty excited for the dynamic between two people who seem to have been pretty intense together as high school sweethearts.
Lyle doesn't seem like he's going to be the "bad boy" of Southern Charm Savannah by any means, but there's still probably going to be enough drama surrounding both him and Catherine to make their story this season well worth watching.