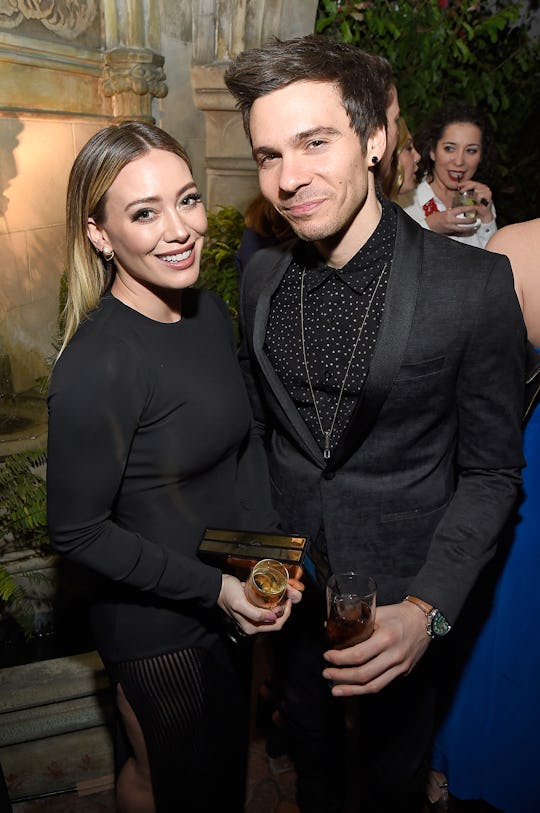 Matt Winkelmeyer/Getty Images Entertainment/Getty Images
Everything You Need To Know About Hilary Duff's Boyfriend & Dad-To-Be Matthew Koma
It's baby no. 2 for Hilary Duff! On Friday, the Younger actor took to Instagram to announce that she and boyfriend Matthew Koma are expecting a baby girl. She'll be Duff's second bundle of joy — and first for the couple. And, of course, the happy news might have some fans asking: Who is Matthew Koma and how did he and Duff meet?
Turns out, Duff's baby girl will have more than one musical influence in her life. Koma is also a singer and a songwriter, and has been in an on-again, off-again relationship with the 30-year-old mom-to-be for a few years now. Duff and Koma reconciled for the third time around the fall, which the Lizzie McGuire star confirmed in a December appearance on The Talk, according to E! News. They had initially split in April of last year after a few months of dating, E! News reported.
During her interview on The Talk, Duff said of her relationship with the 31-year-old Koma, USA Today reported: "I think that you have history and a past with someone and love, and just because it doesn't work out the first time, the second time, as long as there's not too much damage done then it can always work out again."
Born and raised in Long Island, New York, Koma first got his start in music by playing punk tunes before transitioning to pop, hip-hop, and electronica, according to Watchdog Management. He's released several tracks — most recently, 2017's "Suitcase" —since bursting onto the music scene in 2011, the year he signed to Interscope Records, according to Newsday. A year later, he released his debut EP, Parachute, and went on tour with LMFAO and Far East Movement, Newsday reported. The vocalist and dad-to-be has also toured with Owl City and Ellie Goulding.
But Koma's not only a signer. He's also a songwriter, DJ, and producer, and has penned tracks for a few big names, including Britney Spears and Kelly Clarkson, according to Your EDM. Some of his other project credits also include Said The Sky's track, "Over Getting Over You," Sebastian Ingrosso's dance hit "Calling (Lose My Mind)," and Zedd's single, "Spectrum."
Although he's a well-known electronica artist, Koma doesn't limit his talents only to that genre, though. The 31-year-old musician told Your EDM back in 2015:
I never really thought of it as genre specific, great songs are great songs, and if you dress it up with the production model of electronic music or if you dress it down and make it acoustic, a good song will be able to stand on its own. I would never put a song of mine Kelly or Britney performed in the box of electronic music.
Koma continued, according to Your EDM:
Culture influences music and people are all open-minded and there are more [opportunities] for worlds to collide, but I don't know if I work in the context of genres.
Coupled with Duff's singing background, there's no doubt that their baby girl will grow up in a musical household. Duff has released five albums since the early 2000s, with the latest being 2015's Breathe In. Breathe Out. (A bit of controversy swirled around Duff's hit album, when fans accused Taylor Swift of stealing a line from the title track.)
The soon-to-be bundle of joy will be Koma's first child, and the second for Duff, who is mother to 6-year-old son Luca with ex-husband Mike Comrie, according to USA Today. Duff and Comrie separated in 2014 after four years of marriage.
Duff and Koma's relationship has seen its fair share of ups and downs, but it seems this couple is pretty rock solid today. And if their Instagram announcements are any indication, they can't wait to start a family of their own.