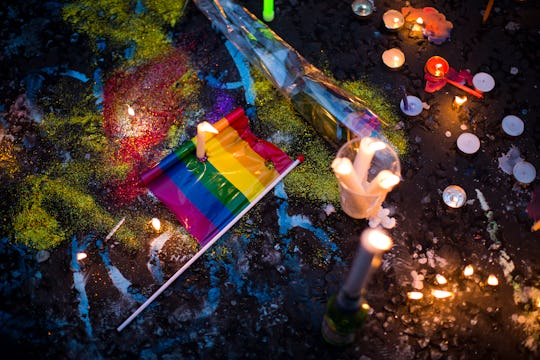 Jack Taylor/Getty Images News/Getty Images
Who Is Mercedez Marisol Flores? The Orlando Victim Was A Hardworking Student
In the early hours of Sunday morning, 49 lives were taken after an armed gunman opened fire and took hostages in a crowded LGBT nightclub in Orlando. The incident is now regarded as the deadliest mass shooting in American history. As we learn the identities of the victims from the massacre, officials fear the death toll may rise in the coming days. The tragic list of fatalities list both young men and women, including Mercedes Marisol Flores, a 26-year-old woman who was in attendance at Pulse Nightclub's Latin Night on Saturday night with her best friend, Amanda Alvear. Both women were killed in the shooting, which has been condemned as an act of terrorism.
Memories and details about Flores paint a picture of a woman who was an avid music fan who was a caring and creative free spirit as well as a determined student.
"Whenever I was in the car with her, she always had the music blasting, and I guess she got the love of music from my father and uncle who are DJs," her aunt Jennifer Flores told The Orlando Sentinel. "She was just a really fun nice person and cared a lot about her friends. She really did live her life the way she wanted to."
Her father, Cesar Flores, described his daughter as the "happ[iest] girl all of the time," according to The Tampa Bay Times. "She's a hard worker. She's a hard student," her father told reporters at the Beardall Center in Orlando, then paused to correct himself. "She was a hard student. I'm sorry. She's gone."
According to Flores' Facebook page, she lived in Davenport, Florida, and was originally from Queens, New York. Her Facebook page also says Flores began to work at Target after she graduated high school in 2008 and continued to study literature at Valencia Community College. According to The La Crosse Tribune, Flores was interested in party planning and wanted to be able to coordinate events with her two older brothers, who are also DJs.
Flores' sister-in-law said the aspiring party planner went to Pulse nightclub almost every weekend, according to The La Crosse Tribune. She often went with best friend Alvear, who also died in the shooting. Posts on social media say the pair had a very "supportive" friendship.
An outpouring of love for Flores across social media indicated that Flores was loved by everybody she met and was a caring friend.
"I'm going to miss you dearly," one Facebook post reads. "RIP beauty, your soul, mind and heart was such an breath of fresh air down to earth loving caring friend! Im so sorry this happened to you. Love you."
"It is not fair that such a horrific act of hate would take the life of a beautiful soul," her father said, according to The Orlando Sentinel. "No words can describe the pain my family is going through."
As we learn the identities of the victims, it's important that we remember who they were as people to help cope with this terrible tragedy. We must remember their beautiful lives to use as strength to rebuild hope and unite as a nation of love, not hate.