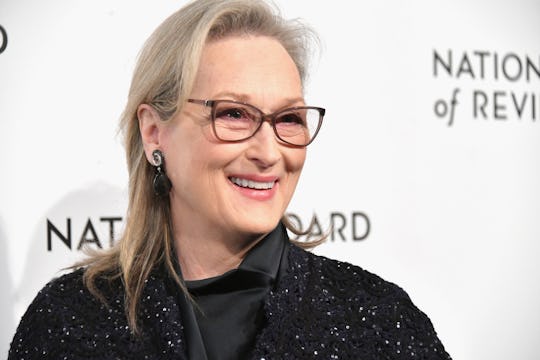 Mike Coppola/Getty Images Entertainment/Getty Images
Meryl Streep Will Star In 'Big Little Lies' & You Won't Believe Who She's Playing
Just in case you weren't already excited about Big Little Lies Season 2, the series has gone and convinced one of the most famous actresses of all time to join the already phenomenal cast. I'm referring, of course, to Meryl Streep. (Yes, THE Meryl Streep.) So who is Meryl Streep playing on Big Little Lies? Her character will serve as a pivotal part of Season 2.
According to The Hollywood Reporter, Streep is gearing up to take on the role of Mary Louise Wright. And if you're thinking, "Huh, why does the name Wright sound so familiar?" That's because fans have definitely heard that last name before on the show — it belongs to Perry Wright (played by Alexander Skarsgard). That's right, the Oscar-winner will be playing none other than Perry's mother! Perry, if you recall, was the abusive husband of Celeste (played by Nicole Kidman) and was revealed to be the mystery person who died during that fateful Trivia Night party. Well, truth be told, he didn't just die — he was pushed down the school steps by Bonnie after he attacked Celeste in front of all her friends. So as Perry's mother, you better believe Mary Louise will be looking for some answers.
Streep's character is described as a woman "who is concerned for the well-being of her grandchildren following her son Perry's death," according to The Hollywood Reporter. Sounds pretty interesting, right? I can already picture how amazing Streep will prove to be in this role (and really any role for that matter). Could this mean she'll end up discovering what really happened on the night her son died? Only time will tell.
This exciting news comes shortly after TVLine revealed that Perry will be returning for Big Little Lies Season 2 in some capacity. And while I definitely take this to mean he'll appear in flashbacks — perhaps in some scenes with Streep herself — it's also possible that the series will make it so Perry didn't actually die. I know, I know, it seems highly unlikely since the police were investigating everyone with the clear distinction that someone had, in fact, died. But my philosophy is that you should never rule anything out when it comes to the wonderful world of television. Not to mention that Skarsgard himself seemed to tease the possibility during the Golden Globes red carpet , stating to NBC at the time: "I don't even know if I'm really dead or not." So I guess there's always that theory to consider.
But by all accounts, I have a strong feeling that Perry is dead and that we'll just see him occasionally via flashbacks. However, given his mother's appearance in Monterey, his presence is sure to be felt throughout all seven episodes of the second season. And since both Reese Witherspoon and Kidman have confirmed their return to the series, you can bet to see some intense scenes between Celeste and her mother-in-law. Did she know how abusive her son was? Fans will just have to wait and see. But either way, I have no doubt that Streep with continue to wow viewers as per usual.
Streep may be known mostly for her movie roles, but she's certainly dabbled in TV as well throughout her impressive career. In fact, she won an Emmy for her leading role in the popular HBO miniseries adaptation of Angels in America. And given this latest casting news, Streep could end up seeing another Emmy coming her way in the very near future.
Check out Romper's new video series, Romper's Doula Diaries:
Watch full episodes of Romper's Doula Diaries on Facebook Watch.