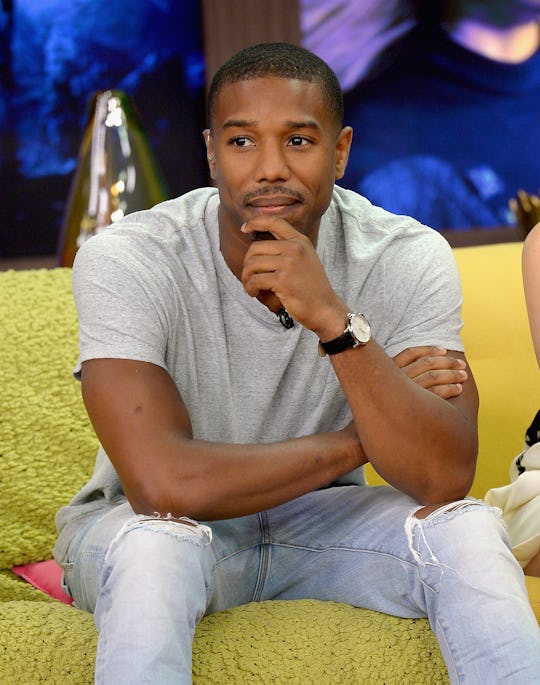 Gustavo Caballero/Getty Images Entertainment/Getty Images
Who Is Michael B. Jordan's Girlfriend? His Approach To Dating Is Adorable
What a year 2015 turned out to be for Michael B. Jordan. The 29-year-old actor starred in Creed alongside Sylvester Stallone. He played Johnny Storm, the Human Torch, in Fantastic Four. His name seems to be on everyone's lips these days and with that face the obvious question many are asking is, who is Michael B. Jordan's girlfriend?
As is often the case in the Hollywood dating world, the answer isn't exactly straightforward. His name has been linked to Iggy Azalea, but he denied dating her. In September 2015, there were also rumors that he was dating Kendall Jenner, but he denied that as well, saying instead the two were "just friends." The two were spotted leaving a party together in May and got the rumor mills churning furiously.
While Jordan said they weren't dating, he was shocked at the racist backlash the rumors sparked. He told GQ magazine in October as part of their cover feature on him, "It's the world we live in. They see white and black. I don't." He went on to say, "A lot of black fans were feeling like, 'Oh, my God, he should have been with a black woman' and that whole thing. I get it, but on the other hand it's, like, relax. You know – it's 2015. It's okay! People can like one another, not necessarily from the same history or culture or whatever the f*ck it is."
Jordan, who played the title role of Adonis "Donnie Johnson" Creed in the Ryan Coogler-directed Creed, has been in the news quite a bit lately. His role, though met with critical acclaim, was not nominated for an Oscar this year while his co-star Sylvester Stallone (reprising his role as Rocky Balboa) was nominated for Best Supporting Actor. Some critics are crying foul, pointing to a diversity issue that seems glaringly apparent with the hashtag #OscarsSoWhite this year. Some stars have very publicly decided to boycott the 2016 Oscars in protest. Most notably Spike Lee, who is the recipient of an honorary Oscar this year, chose Martin Luther King's birthday to announce his boycott. Jordan himself has remained quiet on the subject and it was recently announced he will be a presenter at this year's Oscars. But, who will be his date?
It looks like he might be stagging it. Jordan told Oprah in July 2015 that he has never had a serious girlfriend. He has had women he felt close to, but he has this rule, you see (brace yourself to fall in love). He has a sister, and he wants to make sure that he treats any woman he's with the way his sister should be treated.
Be still, my beating ovaries. The only way he could make me love him any more would be if he took his mom to the Oscars.
So, yes, Jordan is on the market, but he's also very focused on his acting career, and that's totally OK, too.