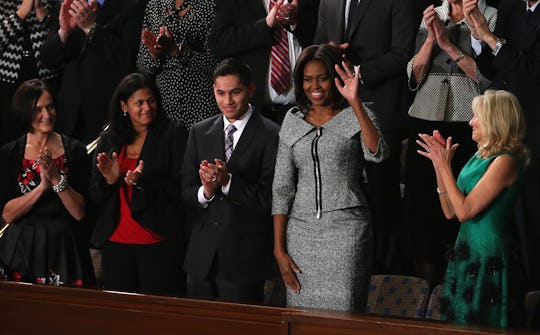 Mark Wilson/Getty Images
Who Is Michelle Obama Bringing To The State of The Union Address? Cynthia Dias Has An Amazing Story
In accordance with tradition, the first lady generally invites a special guest to sit with her in the visitor's box during the president's annual address to the nation. For this year's State of the Union, Michelle Obama will be bringing Cynthia Dias, a once-homeless veteran who was a registered nurse during the Vietnam War. Working on a hospital ship, Dias provided aid to some of the 303,644 soldiers wounded during the conflict, but once she came home, she began to experience symptoms of post traumatic stress disorder. Her PTSD eventually got so bad that it caused her to become homeless. Things remained that way for many years.
Fortunately for Dias, the 64-year-old's luck changed last year when she was able to move into a new homeless shelter for women and children located inside a renovated motel in downtown Las Vegas. The shelter, known as Veterans Village, houses 122 homeless vets and provides them with access to a variety of VA services, including counseling, health care, and job training. More than that, it provides them with a sense of hope and community.
That shelter exists in part due to the FLOTUS' efforts toward ending veteran homelessness. After recognizing that there were more than 49,000 homeless veterans living in our country (according to Housing and Urban Development estimates from January 2014), Mrs. Obama teamed up with Jill Biden to address the very real problems plaguing those who once served our country but had seemingly been forgotten. Just last year, Mrs. Obama also made a proposition to landlords who might be in possession of vacant units across the country to consider opening their properties to homeless veterans. Las Vegas was one such city to rise to the challenge.
Because of this, veterans like Dias are finding themselves in a better situation, one where they don't have to worry about finding a place to sleep for the night or some way to eat. Plus, she and others like her are now better able to receive help for their PTSD, a condition that can stick around for one's entire life without treatment.
"I survived and I'm thriving here at Veterans Village," Dias said in an interview with NBC Los Angeles this week, adding that what had truly helped her and other veterans most was the camaraderie they felt, rather than any of the anti-depressants they might have been given. Dias added that she had been floored upon receiving the invitation from the First Lady, and hoped that her presence would inspire others to think of her tale of survival.
There's no doubt in anyone's mind that on Tuesday night, Mrs. Obama will be hoping for the same thing.
Images: Mark Wilson/Getty Images