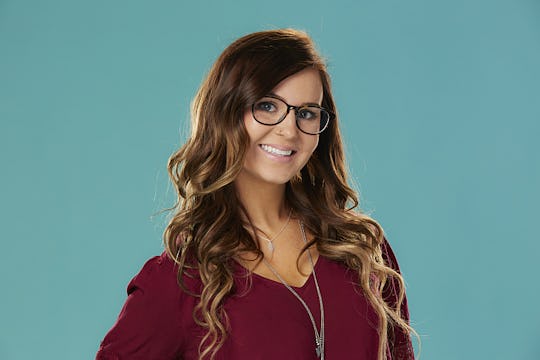 Monty Brinton/CBS
Who Is Michelle On 'Big Brother 18'? The Super Fan Will Do Anything To Win
The season premiere of Big Brother 18 is here, which means that not only should you be setting your DVRs in case of an emergency, but you should also be more than well-informed by now of the new houseguests. Like Michelle Meyer, a recent college grad from Michigan. So, who is Michelle on Big Brother 18? Like most cast members, she'll be pulling out all the stops to win that $500,000 prize, and rightfully so. That's a lot of money, and while Michelle plans to spend the next few months with her new roommates, she doesn't need to be their friend after Big Brother ends.
In her preliminary interview, Meyer is quick to go on about her soon-to-be profession as a nutritionist after having graduated from Michigan State University. She also brags about being able to whip everyone into shape, which few houseguests are likely to welcome, maybe? Meyer currently works in retail, as any college student can lay claim to, so there's no shame in that. But a big fat $500,000 check would go far in getting out of the retail game, wouldn't you say? Obviously the money is what will be driving all of the cast members on Big Brother 18, but to really need it means fighting extra hard for it.
For fans of the show, she may remind you of Big Brother contestant Nicole, from BB16. Meyer is also a Big Brother super fan, which can only help her as the season progresses. Being a fan of both the U.S. and international versions of Big Brother has its advantages. She's seen a lot more than some of the other cast mates and can learn from former houseguests' tactics and mistakes, too. As for her official strategy to win Big Brother 18, Meyer is not going to be shy about being as fake as she needs to be:
"I plan on being friendly with everyone and pretending this game doesn't mean the world to me. I plan on passively manipulating people and giving them reasons to follow my suggestions."
Of course everyone's strategy on Big Brother is going to have something to do with playing sneakily and ruthlessly because that's kind of necessary when you're living with your opponents 24/7. But Michelle also has her family at work back home, manning her Twitter and keeping the feed packed full of pro-Michelle posts and — yes — even merch. As someone who says that she needs to "Try not to talk about other people, spread rumors, and get into drama that doesn't involve me", Michelle Meyer is going to be fun to watch on Big Brother as she either outsmarts her fellow houseguests or digs herself into deep trenches with them.