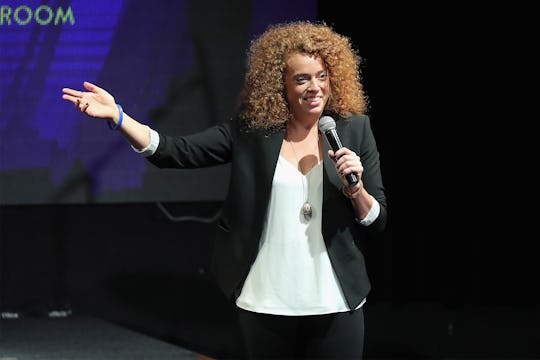 Neilson Barnard/Getty Images Entertainment/Getty Images
Who Is Michelle Wolf, The White House Correspondents' Dinner Host? The Comic Speaks Truth To Power
On Saturday, a proverbial who's who in media and politics, as well as some Hollywood elites, will gather in Washington, D.C. for the annual White House Correspondents' Dinner. Many attendees expect this year's gala to be understated, but there's still one exciting aspect everyone's talking about: Who's hosting the shindig. So who is Michelle Wolf, the White House Correspondents' Dinner host? She's a hilarious comedian and actor who pulls no punches, and is not afraid to make the room uncomfortable.
Wolf has followed an interesting career trajectory. The Pennsylvania-born entertainer didn't seek out comedy as a calling; instead, Wolf fell into the profession while working on Wall Street, according to The New York Times. Eventually, she quit her career in finance to pursue comedy full-time, taking improv classes at New York mainstays, such as the Upright Citizens Brigade Theater, and then moving into writing jokes and performing stand-up, The New York Times reported.
Her dedication to the craft paid off, big time: She started working as a joke writer for Late Night With Seth Meyers in 2013 before moving over to The Daily Show With Trevor Noah in 2016, first as a writer, then as a correspondent, according to The Village Voice. Wolf also filmed her first stand-up special, Nice Lady, which aired on HBO in November, The Voice reported.
When Margaret Talev, president of the White House Correspondents' Association, announced in February the organization's decision to tap Wolf for hosting duties, she said, according to Variety:
Our dinner honors the First Amendment and strong, independent journalism. Her embrace of these values and her truth-to-power style make her a great friend to the WHCA. Her Pennsylvania roots, stints on Wall Street and in science and self-made, feminist edge make her the right voice now.
Talev's observation is spot-on, considering the subject matter Wolf tackles as a comedian. As a Daily Show correspondent, the 32-year-old former financier is not afraid to take aim at President Donald Trump and his alleged history of sexual misconduct (he has denied everything), nor is she afraid to address the pervasiveness of sexual harassment and assault in Hollywood, according to Vanity Fair. She also pulls no punches when criticizing Trump's presidency as a whole, or the complicity of his family members — namely, daughter Ivanka, Vanity Fair reported.
In other words, as Vanity Fair noted, Wolf is in the perfect position as the White House Correspondents' Dinner host to address today's current political and cultural climate with nuance and sharp insight.
Wolf, of course, is not the first Daily Show alum to take the podium at the annual media event. Other Daily Show stars who've served as host include Larry Wilmore, Stephen Colbert, and Hasan Minhaj, who took the reins at last year's Correspondents' dinner — the first one of Trump's presidency — according to Rolling Stone.
Not surprisingly, Trump didn't attend last year's dinner. And it doesn't look like he'll make an appearance this year, either, according to The Hill. After all, Trump has expressed his disdain for the press (except Fox News) over and over and over again on Twitter, in press conferences, and probably in private conversations, too.
Not going to lie, though: Wolf had the best response to the news of Trump's absence. In speaking with The New York Times, the comic said, "I thought, oh, thank God, I don't have to hear him eat." I can't imagine what Trump eating food would sound like, and I don't want to imagine it, so I don't blame Wolf for her response.
Although some people are anticipating a quiet event, Wolf's presence as host will surely kick the Correspondents' dinner up a notch. Honestly, I can't wait for it.