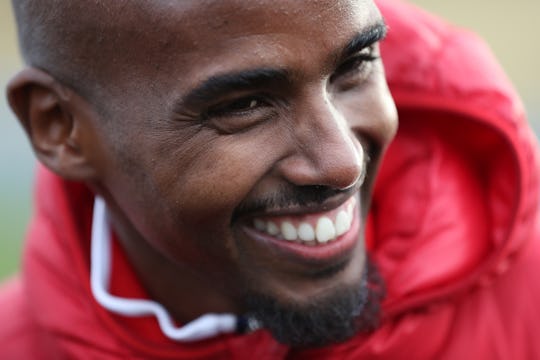 Ian MacNicol/Getty Images Sport/Getty Images
The Immigration Ban Is Bad News For Mo Farah
Mo Farah may be Britain's most decorated Olympic track athlete ever, but even he couldn't outrun the far-reaching effects of Donald Trump's newly implemented ban on travel to the United States for people from seven select Muslim-majority countries. A British citizen born in Somalia who holds dual citizenship, Farah lives in the United States but is currently training in Ethiopia. And on Sunday, after protests erupted across the nation in response to the president's executive order over the weekend, he grappled with the possibility of having to tell his kids in Oregon that he may not be able to return home in an emotional Facebook Post. There's no question of who Mo Farrah is: a father, a husband, a four-time Olympic gold medal-winner. But under the terms of the new directives from the Oval Office, he's been reduced to "threat."
After Trump signed the executive order to suspend the U.S. refugee program for 120 days, bar Syrian refugees indefinitely, and to seal the borders to nationals of Syria, Yemen, Sudan, Iraq, Iran, Libya, and Farah's native Somalia for three months, widespread chaos descended on airports nationwide as authorities struggled to enforce the confusing new directives (and protesters aired their outrage). But it was a catastrophe on a personal level for the countless people whose access to the place they call home was thrown into question. As Farah wrote in his post: "On 27th January, President Donald Trump seems to have made me an alien."
According to The Oregonian, Farah isn't scheduled to return home to Portland until March, where he's lived since 2011 to participate in the Nike Oregon Project. But in his Facebook post, he expresses real concern about whether or not that will even happen — and contrasts Trump's move with the honor of having been knighted by England's Queen Elizabeth II earlier this month. "It's deeply troubling that I will have to tell my children that Daddy might not be able to come home — to explain why the President has introduced a policy that comes from a place of ignorance and prejudice," he wrote.
Farah won gold in both the 5,000 and 10,000 meter races in London in 2012. He replicated this amazing feat four years later in Rio, crossing the finish line first in the 5,000 despite having fallen during the contest. And that demonstrated skill, talent, and perseverance may serve him well as he seeks legal avenues to rejoin his wife and the couple's children at their home. According to People, Farah and Tania Nell share twin daughters named Aisha and Amani and a son named Hussein. In addition, Farah is a stepfather to Nell's daughter, Rihanna.
Whether or not everyone in the United States believes that Trump's new immigration plan is "ignorant and prejudiced," as Farah does, it's hard to ignore the implications it has for families and individuals' livelihoods. As judges across the country continue to block parts of the ban, the White House and the Department of Homeland Security are standing resolutely by it — but the Trump administration reversed Sunday afternoon to say it no longer applies to green card holders, The New York Times reported. That could be good news for Farah, assuming he is, in fact, considered a legal permanent resident of this country.
Still, his undoubtedly stressful situation of uncertainty is emblematic of the tumult that is affecting so many.