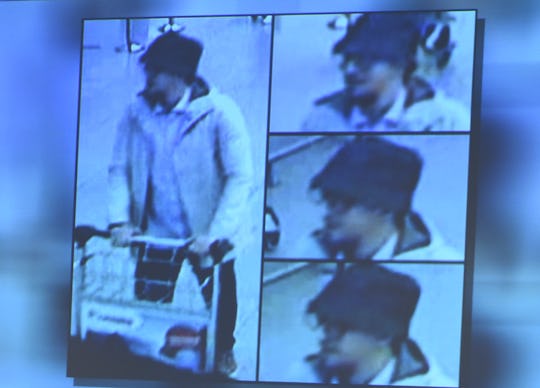 JOHN THYS/AFP/Getty Images
Who Is Mohamed Abrini? Brussels' "Man In The Hat" Attacker Confessed To Police
Belgian authorities released a major development into the investigation of the Brussels airport bombing suspect dubbed "the man in the hat" — Mohamed Abrini confessed to police to being the man seen with the suicide bombers at the airport on March 22. The terror suspect was arrested in Belgium on Friday for his alleged role in the deadly blasts in Brussels. He is also wanted in connection with the terror attacks in Paris that killed 130 people last November. Abrini is one of six men who were arrested in connection with these terrorist attacks, so what's the story behind "the man in the hat"?
The bombings at Zaventem airport and a busy downtown metro station in Brussels left 32 people dead from around the world with hundreds more injured. The self proclaimed Islamic State, or ISIS, said it was behind the terror attacks. Officials believe those who carried out the Brussels bombings are connected to the same network as those who were responsible for the Paris attacks.
Abrini, a 31-year-old Belgian of Moroccan origin, confessed to police that he was the man seen on surveillance footage after he was confronted with evidence. The BBC reported that Abrini's fingerprints and DNA were found in two "safe houses" in Brussels, as well as in a car used during the Paris attacks.
"He said that he threw away his jacket in a rubbish bin and sold his hat after the attack," the federal prosecutor said in a statement reported by the BBC.
Abrini is seen in a surveillance video in a light-colored jacket and dark hat pushing a luggage cart with a black bag at the airport with the two suicide bombers nearby. He's been charged with participation in the activities of a terrorist group and terrorist murders.
Abrini has a criminal record of violent theft with several convictions in Belgium. Additionally, he has been on Europe's most wanted list since the Nov. 13 Paris attacks. CNN reported that Abrini had a younger brother who was killed while fighting for ISIS in 2014. Friends described Abrini to CNN as a tall, slim, quiet man who would keep to himself when he would regularly visit a Brussels cafe for a drink in the evenings.
Before his arrest on Friday, he was last seen on CCTV footage two days before the Brussels bombings at a gas station with another suspect from the Paris attacks — Salah Abdeslam, who is believed to be the mastermind behind the Paris attacks, was arrested last month after a shootout with police. Their connection goes far back, before the Paris attacks — Abrini was reportedly childhood friends with Abdeslam and his brother, Brahim, from Brussels.
Security experts were already concerned about the possibility of more terrorist attacks in the wake of the Paris attacks last year. There was also speculation that the Brussels attack might have been carried out in retaliation for Abdeslam's capture, but others speculated that his accomplices felt pressured to carry out the twin attacks in Brussels before Abdeslam could release any information to authorities.
Authorities now have two of the most wanted men in Europe who they believe are responsible for the deadliest terror attacks in Europe in recent history. In addition to Abrini and Abdeslam, prosecutors announced that they have charged three other men with terror offences — Osama K, who was allegedly present at the time of the bombing on the Brussels subway, and Herve BM and Bilal EM, who are both suspected of offering their assistance to Abrini and Osama K.
Abrini's confession is a major development in the investigation and Belgian Prime Minister Charles Michel said in a news conference his government feels "positive," but also that we have to "stay alert and cautious." He added that his government would continue to be vigilant about the militant threat.