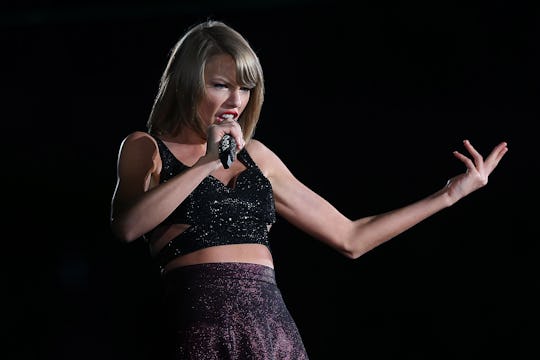 Graham Denholm/Getty Images Entertainment/Getty Images
"New Year's Day" Is Totally Taylor Swift's Ode To Her Beau
The midnight release of Taylor Swift's sixth studio album, Reputation, on Friday has critics and Swifties alike parsing every lyric to every song to find the subliminal messages and the hidden disses. Don't forget about the not-so-subtle allusions to past feuds and confirmation that the "old Taylor" really, truly is dead. And then there's the very last of the 15 songs that make up the album, a sappy love song that seems less about ushering in a new era of Taylor Swift and more about just that: love. But that didn't mean that listeners don't want answers about this one just like all the others. So, we know what it's about, but, who, exactly, is "New Year's Day" about? It's not much of a mystery; anyone who's been paying much attention to Swift knows that it has to be an ode to her rumored boyfriend, Joe Alwyn.
Before the Swift debuted the song during the 9 p.m. broadcast of Scandal Thursday — just a few hours before the entire album would officially hit the airwaves — fans were already enthusiastically trading theories about what the song was about. Working solely off the leaked track list — and Swift's confirmed list later that day — Swifties guessed that the song was about Swift's relationship with Harry Styles, which reportedly ended around the holidays in 2013. But, considering that years have passed since that breakup and that Swift reportedly has a new beau now, that particular theory seemed a little far-fetched.
The other lead contender, that "New Year's Day" would serve as an announcement that she and Alwyn were engaged, seemed much more likely.
That turned out to not exactly be the case, but it is pretty clear that the song is definitely about Alwyn, a British actor. The song starts out with the description of the aftermath of a party — with "girls carrying their shoes down in the lobby" and "candle wax and Polaroids on the hardwood floor" — and quickly segues into Swift's apparent desire to stay with Alwyn, whom she reportedly met sometime in 2016, for a long, long time, like forever:
Don't read the last page/ But I stay when you're lost, and I'm scared/ And you're turning away/ I want your midnights/ But I'll be cleaning up bottles with you on New Year's Day
Truly, she does not want to lose him, as she sings later in the song:
Please don't ever become a stranger/ Whose laugh I could recognize anywhere
And she's in luck, because, by pretty much all accounts, the couple is going strong. They've kept their relationship largely private, which could only fuel the rabid curiosity just the title "New Year's Day" inspired, but they've met each other's families, according to E! News, and are apparently just enjoying spending time in their own little world. "[Swift] is keeping a very low profile and plans on staying that way as long as she can," an unnamed source told the outlet back in July. "She is in a happy place, even though she seems like she is hiding. She is taking care of her body and is really healthy."
And more recently, just on Wednesday, a source identified as a "Swift insider" shared with People magazine that "Joe could definitely be the one."
So, Swift did not ultimately announce an engagement in a song — at least not this song. There's still time for the big unveil, if that's what the happy couple truly does want, in some other potential single or live performance. Fans will be all over it when and if the time comes, that's for sure. In the meantime, there's a lot for them to unpack and love about "New Year's Day" just as it is.
Check out Romper's new video series, Romper's Doula Diaries:
Watch full episodes of Romper's Doula Diaries on Facebook Watch.