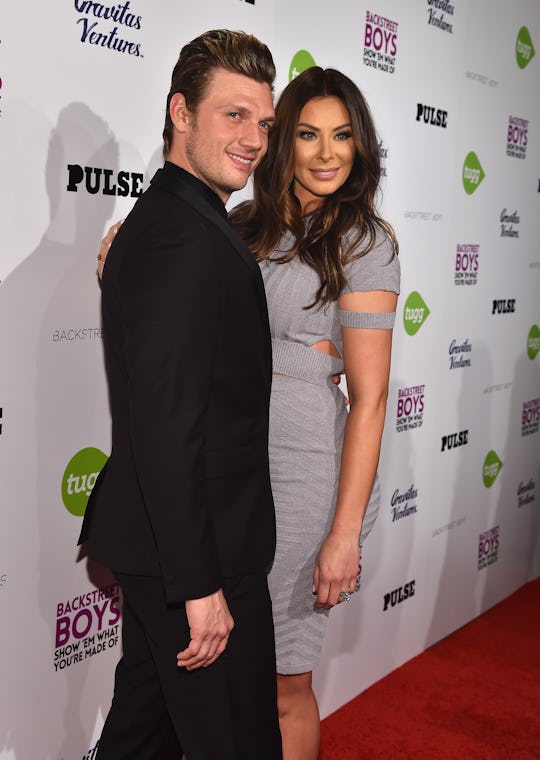 Alberto E. Rodriguez/Getty Images Entertainment/Getty Images
Who Is Nick Carter's Wife? Lauren Kitt Carter Is An Actor & Fitness Guru
Well, it looks like the Backstreet Boys are all Backstreet Dads now. Nick Carter and his wife, Lauren Kitt Carter, had a baby boy on Tuesday. While the news was met with general feelings of "Aw!" and "Wait, how old does that make me?," some fans were curious about who Nick Carter's wife is. The gorgeous actress might be a familiar face to fans of soap operas and YouTube fitness videos, but few people outside of those worlds are familiar with her.
Lauren Kitt dated Nick Carter for four years before marrying the Backstreet Boy on the beach in April 2014 in front of friends, family, and swarthy Backstreet Boy A.J. McLean, breaking the hearts of hopeless romantics everywhere. Many fans were surprised to find out that the notorious bachelor Carter was settling down for real, even his fellow Backstreet Boy McLean. While he was waiting to attend the couple's rehearsal party, he posted a picture of himself on Instagram with the following caption:
Chillin at the house getting ready to head to the rehearsal dinner of the wedding most of u thought would never happen but I'm so happy it is finally! Congrats to my little bro for growing up and finding love. So proud of u bro. Love u both @nickcarter and @laurenkitt
While Kitt's acting career has been relatively sparse in recent years, she did enjoy some fame as a bootcamp instructor on an episode of the popular soap opera One Life To Live in 2013 and hosted a YouTube fitness series called Kitt Fit.
Once she and Carter began dating publicly, they starred in the reality TV show, I (Heart) Nick Carter, which ran for one season in 2014 and followed the engaged couple as they tried to figure out a variety of issues. The two also star in the recently released Dead 7, a movie about gunslingers co-starring with (and no, I'm not kidding) Joey Fatone, A.J. McLean, Nick Carter, and Howie Dorough, to name a few. Dead 7 premiered on the SyFy network on April 1 and was billed as a futuristic zombie western starring boy bands from the '90s — specifically N'Sync (no, not Justin) and the Backstreet Boys. So... yeah, that's what I'm doing tonight.
Now that the couple have Dead 7 out of the way, they can focus on their latest production, little Odin Reign Carter.
Kitt reportedly had to suffer through a solid 30 hours of labor to welcome little Odin (whose name means "widely revered god," so no pressure), a number that is sure to strike terror in the hearts of pregnant moms everywhere. Young Odin has been born into a pretty cool family, if the Game of Thrones-themed baby shower — complete with a specially designed "Winter Is Coming" cake — is any indication. I might consider having another baby just to copy this idea, by the way.
So, welcome, tiny Odin, ruler of a Backstreet Boy and fitness guru. Long may you reign!