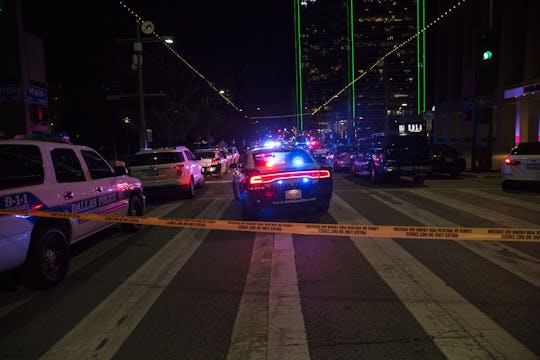 LAURA BUCKMAN/AFP/Getty Images
Who Is Officer Brent Thompson? The Dallas Shooting Victim "Served Admirably"
Just hours of the deadly shooting that took place in Dallas, Texas that claimed the lives of five police officers, the victims' names have been released. Officer Brent Thompson, NBC News revealed, was the first police officer killed in last night's deadly attack by snipers. According to statements delivered by the Dallas Chief of Police James Spiller, Thompson was a "great" man who "served admirably" for seven years. He was recently married.
The loss of life is devastating and senseless, and Chief Spiller added that Thompson's death marked the first person killed in the line of duty in the 27-year history of the Dallas Area Rapid Transit authority (DART). Spiller continued that Thompson was a "great officer" who "served admirably during his time here at DART." The attack on police was carried out during a protest over the police shootings of Alton Sterling and Philando Castile in New Orleans and Minnesota, respectively. Thompson, who was married two weeks earlier, Chief Spiller noted, was on patrol duty the evening when he was murdered. He was 43 years old at the time of his death.
At the time that officials released Thompson's name as one of the deceased, officials also released the names of other injured police officers: Misty McBride, Omar Cannon, and Jesus Retana. Of Thompson's murder, Chief Spiller said,
This is very heartbreaking for us ... we will definitely miss him, and we are also making sure that his family is taken care of.
Speaking from Warsaw, Poland, where he's attending a NATO Summit, President Obama addressed the murder of the five Dallas police officers, and he said:
Police in Dallas were on duty doing their jobs, keeping people safe, during peaceful protests. These law enforcement officers were targeted, and nearly a dozen officers were shot. Five were killed. Other officers, and at least one civilian, were wounded. Some are in serious condition, and we are praying for their recovery.
Speaking to reporters, Dallas police chief David O. Brown said that the suspects "told our negotiators that the end is coming and he's going to hurt and kill more of us, meaning law enforcement, and that there are bombs all over the place in this garage and downtown," according to the New York Times. He added that the suspects had every intention to do further harm to the police force and "planned to injure and kill as many law enforcement officers as they could."
In the hours and days to come we'll likely learn more about who Officer Brent Thompson was, the lives he touched, and the heartache left behind in his loss. And though that is a devastating and heartbreaking reality, honoring his life and his devotion to his family, friends, and his career is far more important than giving air time to the people responsible for his murder.