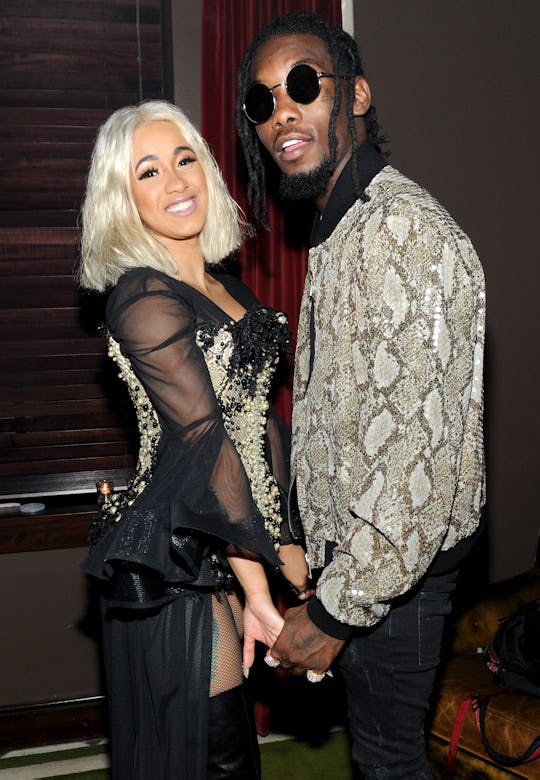 Craig Barritt/Getty Images Entertainment/Getty Images
Here's What You Need To Know About Offset, Rapper & Cardi B's Fiance
If you're a fan of Cardi B (as you should be), you may be wondering who her fiance Offset is. The two rappers are currently expecting a baby together, and, though they express it in very different ways, they both seem super excited to expand their family.
Offset, whose real name is Kiari Kendrell Cephus, is 26 years old. Like his fiancée, Offset is also a rapper. He is one-third of the hip hop group Migos, which also features Offset's cousin Quavo, and Quavo's nephew Takeoff, NME reported. The band formed back in 2009, and they've become known for popular songs including "Bad and Boujee," "Versace," "MotorSport," and "Fight Night." They've collaborated with artists including Nicki Minaj, Lil Uzi Vert, Gucci Mane, Frank Ocean, Calvin Harris, and, of course, Cardi B.
The couple's upcoming baby will be the first child for Cardi B, 25, and the fourth for Offset. He is a father to sons Jordan and Kody, and daughter Kalea Marie, according to Heightline. In August 2017, a woman named Justine Watson allegedly formally requested child support from Offset for her son Jordan, who was 7 at the time, Page Six reported. Offset reportedly responded to the allegations in October 2017, admitting he was in fact Jordan's father. Additionally, he requested joint legal and physical custody of Jordan, he asked for Jordan's last name to be changed to his, and he offered to pay child support and cover medical expenses for Jordan, Page Six reported.
Cardi B and Offset first met in January 2017. She had reservations about dating him at first, but made sure to convey those feelings to him before they committed to each other. In an April 2018 cover story for GQ, Cardi said:
Around Super Bowl time I told my publicist to tell him, because I was very shy, "Listen, if we gonna go on a public date together, you cannot make me look like a dumb-a*s after this." I never wanted to date a rapper because I would hate to look crazy in public.
Shortly after, things became very serious between them — but they still had their issues. She told GQ:
For a long time ... we was in love with each other but we didn't really trust in each other ... We never really trusted each other because I always feel like he could get any girl he wants—what makes me think he's gonna want me? I think he felt the same way.
But then, they decided to stop playing games, and in October 2017, they got engaged. Offset proposed to Cardi at Power 99's Powerhouse concert in Philly, The Philadelphia Inquirer reported. The adorable video is definitely worth a watch:
In a January 2018 interview with Rolling Stone, Offset opened up about his relationship with Cardi. When asked why he wants to marry her, he told the magazine:
She is real solid, came from where I came from, did what I did. She's herself, man. I seen her develop from the trenches all the way up, and I like how she did it. I respect her grind as a woman. She came to the game with some gangsta shit. I like that. I fuck with her. That's my baby.
Then, after months of rumors, Cardi B formally announced that she and Offset were expecting in early April. During a performance on Saturday Night Live, Cardi showed off a noticeable bump while performing her song "Be Careful." Cardi, known for showing off her hilarious personality on social media, often excitedly tweets about and comments on her pregnancy in interviews. Exhibit A: that time Cardi tweeted the sad news that she was so pregnant, she could not see her vagina anymore.
Offset often goes for a simpler approach. After Cardi announced her pregnancy on Saturday Night Live, he tweeted, "Cardi and I look forward to our next chapter together."
Cardi has yet to reveal her due date, but it will certainly be exciting to hear about her and Offset welcoming their baby, whenever it does happen.