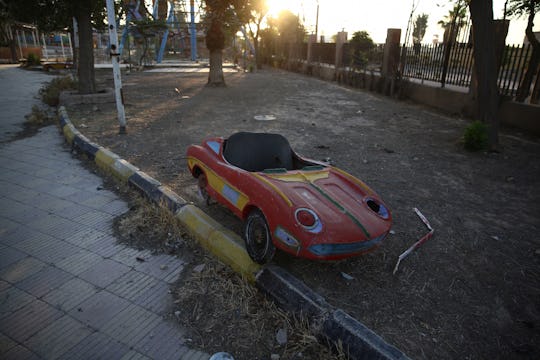 ABD DOUMANY/AFP/Getty Images
Who Is Omran Daqneesh? The Young Syrian Boy's Image Has Sent The World A Powerful Message
Here is who Omran Daqneesh would be in a perfect world: A little boy enjoying the last sweet rush of summer before heading to school. A little boy who plays and laughs and lives every day with that sort of unconscious happiness everyone should expect. A bland smile inside that defies definition. But this world is not perfect. And the story of who Omran Daqneesh is will probably keep people up at night. As it should.
Omran Daqneesh is a 5-year-old native of the war-ravaged city of Aleppo in Syria. The city of Aleppo was once a serious commercial and industrial hub for Syria. Now the city is besieged with attacks by both rebel and government forces who seek to gain control of the city, leaving hundreds of people dead or wounded. Young Omran was rescued from the rubble of an apartment building that had been bombed along with his parents and three siblings (ages 1, 6, and 11). Al Jazeera Mubashir journalist Mahmoud Raslan helped to save the family by passing children "from balcony to balcony", according to the BBC. Omran and his family were taken to the hospital, where doctors said he was treated for head wounds and his family members were treated for non-life threatening injuries.
Their injuries might not have been life-threatening, but the attacks in Aleppo have been threatening their lives on a regular basis for ages. Journalist Raslan snapped a picture of Omran, and that picture is sending the people of the world a powerful message.
Please note: the following images may be upsetting to some.
The message is a simple one: Pay attention.
Pay attention to Omran and the thousands of children like him living in Aleppo. Pay attention to the only life he has known and the life he should be living. A life all of those children should be living.
Omran is being referred to as an "icon"; the image of him sitting in the back of an ambulance, bloodied and covered in dust, his face a mask of shock, is considered an iconic example of war-torn Aleppo.
But Omran is not a still-life photo, or a flavor-of-the-week cause to be trotted out and then forgotten. And neither is his sister, pictured with him below (and again, the following image might be upsetting to some). These two little souls sat in the back of an ambulance after being pulled from a building that had been bombed... and neither one of them is crying. Because this is the life they get to live.
They are luckier than some of the other children of Aleppo.
As journalist Raslan pointed out, before he helped pull Omran and his siblings from the building, he had already pulled three dead bodies out from under the wreckage.
Then again, none of that was likely shocking to Omran.