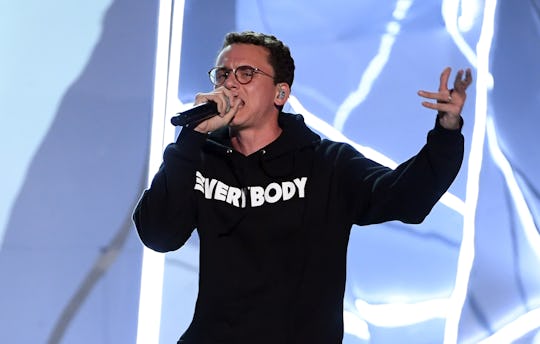 Kevin Winter/Getty Images Entertainment/Getty Images
Who Is On Stage With Logic During '1-800-273-8255'? He Shared The Spotlight At The 2018 Grammy Awards
Logic's song "1-800-273-8255" has a powerful message that was given lift by an even more powerful performance at the 2018 Grammy Awards. The song shines a light on the isolation of depression and suicidal thoughts, and Logic made a point by sharing the stage with others during "1-800-273-8255."
He was joined by the two artists featured on the track, Alessia Cara and Khalid, but they weren't the only special guests there. The song wades through some difficult territory, exploring suicidal feelings while encouraging those listening to seek help if they need it. The title is the same as the number for the National Suicide Prevention Lifeline, so listeners know exactly where to reach out if they're struggling. To bring home the message of the song and bolster its themes, Logic also shared the stage with people who had either attempted suicide or lost loved ones to suicide.
Logic began his performance alone, but the stage filled up slowly but surely. First Cara emerged to join in, then all of the invited survivors began to file in on either side of the main stage. By the time Khalid stepped out, there were rows of people behind the performers, dressed in white t-shirts with key messages. The National Suicide Prevention Lifeline number was on their shirts and the screens in the background, as well as messages from the song like "You are not alone."
Logic was nominated in two categories at the Grammys for "1-800-273-8255," earning a nod in both Song of the Year and Best Music Video. The L.A. Times reported that Logic was successfully able to raise awareness with the song, because after its release the National Suicide Prevention Lifeline received its second-highest call volume, a grand total of 4,573 calls. The record spiked again when Logic performed alongside Cara and Khalid at the MTV Video Music Awards, where he also had survivors, family members, and friends share the stage with him.
It was incredibly emotional to see all of those people standing with Logic at the VMAs, and the same was true at the Grammy Awards. It made it clear just how many lives have been touched by this issue and how many people share these struggles. The song's openness about mental health issues is both relatable and important, because it reminds listeners that they're not alone and that there are steps they can take to get help even when it seems impossible to do so.
At the end of the song, Logic gave a short but very moving speech. The mic cut out once during his words, but that didn't diminish how powerful his message was. "Black is beautiful, hate is ugly," he began. "Women are as precious as they are stronger than any man I have ever met." He continued by calling for predators to be crushed and encouraged people to use their voice to stand up for others when they had the opportunity to, like he did right then.
He expressed support for the ongoing fight for equality and urged those listening to "stand and fight for those who are not weak but have yet to discover the strength that the evils of the world sought to conceal." He finished by reciting the poem carved on Lady Liberty and hoping for a better country and united world in the future.
It was a strong and emotional performance with a finale that sought to honor people who had survived immense trauma while giving a voice to those who couldn't always speak for themselves. Logic, Cara, and Khalid's performance was one of a few from the night that truly resonated with those watching because it was saying something real.
Check out Romper's new video series, Romper's Doula Diaries:
Watch full episodes of Romper's Doula Diaries on Facebook Watch.