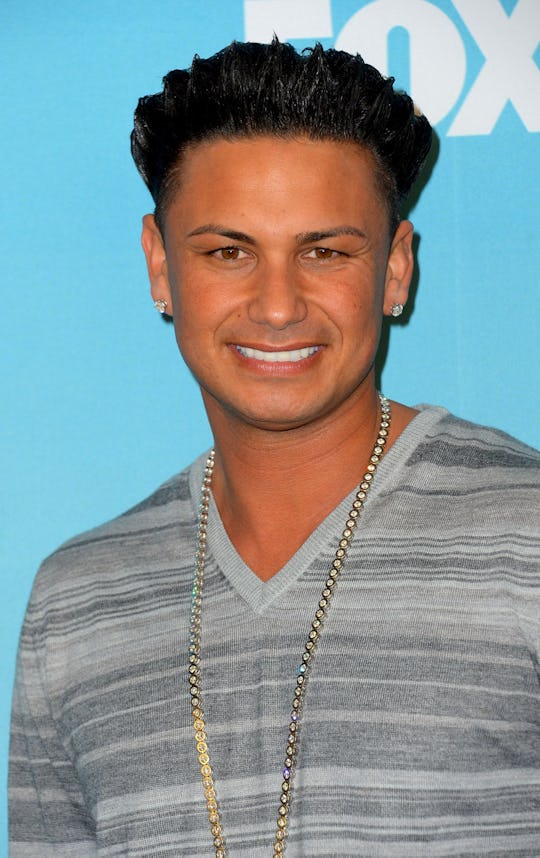 Frazer Harrison/Getty Images Entertainment/Getty Images
Find Out If Pauly D If Off The Market In The 'Jersey Shore' Reboot
On the original Jersey Shore, there was no shortage of one night stands or shortly lived boyfriends and girlfriends coming and going at the Shore house, but none really stuck for good. On the reboot of the original hit series, Jersey Shore Family Vacation, some of the cast members are now parents, while others may be in committed relationships. So fans are probably wondering, who is Pauly D dating after Jersey Shore? He was in a pretty serious relationship for a while with former Danity Kane singer Aubrey O'Day, but after a couple of breakups and makeups, it looks like the couple called it quits for good, which was right on time for Pauly D to travel to Miami and film the first ever season of Jersey Shore Family Vacation.
But for a while, Pauly D and O'Day's relationship was fairly pubic, including the on-again/off-again status each time. They actually met in 2016 when they filmed Famously Single together, though they ironically connected and became a couple shortly after. And more than a year after that, they were in talks to take their relationship to the next level. I'm talking T-shirt time next level, a.k.a. things were getting pretty serious.
In June 2017, the couple spoke to E! News ahead of the second season of Famously Single and revealed that, at the time, they were pretty serious in their relationship and had taken mature steps outside of the show to be together in real life. "We were still strangers by the end [of filming] and now we live together," Pauly D said. "We had to find ways to communicate where we weren't offending each other or triggering each other."
He went on to add that being in the relationship itself had taught him plenty about communicating with a partner, so it definitely seemed like things were moving onward for the couple. "I never communicated so much in my life," he said. "I've learned so much from this relationship. It's pretty crazy because it was my first real relationship. I've learned so much being in it."
O'Day also had plenty to say of their relationship at the time, admitting that she was ready for a ring from the celebrity DJ as well. "I'm looking for something serious and I'm ready to move to the next chapter in my life where I'm a wife and a mom and to experience other things than what I've been doing my entire career," she said. "He knows that and we made sure that's the page we were both on in the beginning." Pauly D even admitted to "looking forward to the next steps" in their relationship, but just a month later in July 2017, E! News reported that the couple broke up for good.
According to a source who informed the news outlet of the split, O'Day was reportedly more ready for the next big step in their relationship than Pauly D was, which is what allegedly led to their breakup for good.
Right now, Pauly D does seem to be as single as you could possibly be. His Instagram is full of selfies and photos from his different shows and it looks like he's deleted any photos of O'Day he may have posted during their relationship. His single status does mean that he'll be able to use the "smoosh room" on Jersey Shore Family Vacation though, and yes, there is going to be a smoosh room this time around, because how could there not be?
Apparently, as fellow Jersey Shore star Vinny Guadagnino told E! News, it's close to the bedroom he shares with Pauly D at the vacation home, so there's definitely easy access for the newly single DJ. Since he did find love on a show about perpetually single stars, though, maybe there's a chance Pauly D could walk away from Jersey Shore Family Vacation with a new love connection as well.
Check out Romper's new video series, Romper's Doula Diaries:
Watch full episodes of Romper's Doula Diaries on Facebook Watch.