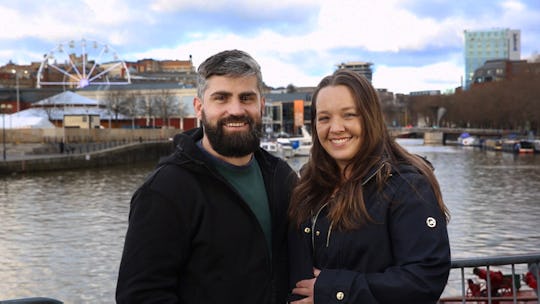 TLC
There's Drama Surrounding Rachel's Baby's Father On '90 Day Fiancé Before The 90 Days'
Love takes many forms, as is particularly clear on reality television. On this season of 90 Day Fiancé: Before the 90 Days, fans will follow Rachel and Jon's journey. Rachel was a single mom when she met Jon, so who is Rachel's baby's father on 90 Day Fiancé: Before the 90 Days? Reddit sleuths are good, but they may not be good enough to find out.
Here's what happened on the show, according to Rachel: She and Jon met on a karaoke app and they apparently had an instant connection. But Rachel was pregnant at the time by a man she had been casually dating. She also already had another daughter with another man that she was married to for three years. On Before the 90 Days, Rachel explained that she didn't think Jon would want to be with her because of her past, so she was dating locally (she is in Albuquerque, New Mexico and Jon is in London, England). Rachel was apparently in a relationship with baby Lucy's father, but it didn't work out. Now Rachel is pursuing Jon — by meeting him in England on the show.
As far as the man she was dating who fathered Lucy, there does not appear to be very much credible information regarding his actual identity. It makes total sense that he would want to keep his name out of the public eye, of course. Rachel may have signed up to be on a reality show about her love life, but that doesn't mean that Mystery Man did as well. From the looks of things, Rachel is respecting the man's desire for privacy, which means that the rest of the world probably should, as well. Obviously, that doesn't stop the world from being curious, or for amateur internet sleuths to try and suss out the truth.
Regardless of what happened, the identity of the father is not known and it looks like it's going to stay that way. On the show, all we know is that Rachel risked it all by going to England to meet Jon, bringing Lucy, now eight months old, with her. Fans weren't super pleased that Jon didn't meet Rachel at the airport, but from their social media accounts it looks like neither is too bothered about it. Both posted sweet messages about their first meeting, with Jon writing, "I f*cking love you," in one caption.
Rachel and Jon are not letting this drama get to them, because not only have they met, but some fans suspect that they've gotten married. Redditer JonInCa have unearthed a marriage certificate for Rachel and Jon labeled June of this year in Bernalillo County, New Mexico. This is all speculation at this point, but Reddit has been spot on before, so I'm not going to discredit this one yet. Rachel's baby's father's name is not known — and may never be — but perhaps before they tie the knot (on the show at least), this all will be addressed on Before the 90 Days.