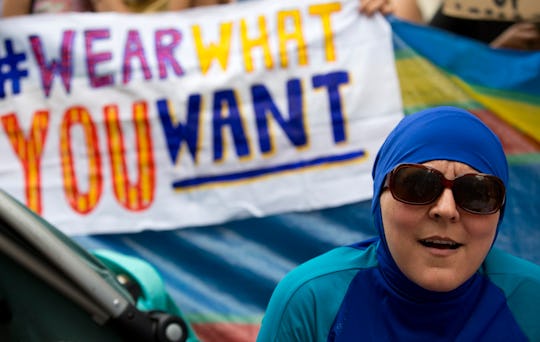 JUSTIN TALLIS/AFP/Getty Images
Who Is Rachid Nekkaz? The Businessman Is Fighting The Burkini Ban In One Simple Way
Ah, the French. They have long been admired for their "laissez-faire" attitudes. As a people, who hasn't admired the ease with which the French seem to have accepted all sorts of lifestyles? It might be just me, but they always sort of seemed to be slightly ahead of the curve. Of course, you wouldn't know it by the most recent stories hitting global headlines, as several French communities have taken serious flak for banning burkinis on local beaches. Thankfully, one local businessman named Rachid Nekkaz has found a simple way to protest the ridiculous ban.
The idea to ban the burkini (a type of full-body swimwear, much like a wetsuit, specifically designed for Muslim women to help them preserve their modesty while still enjoying the water) came to fruition after the terrorist attack in Nice on Bastille Day in July. A massive cargo truck went careening down the Promenade des Anglaise, zig-zagging through crowds of people while the driver shot at those the truck missed. The attack (carried out by Tunisian born Mohamed Lahouaiej-Bouhlel), killed 86 people and injured 307 others.
The city of Nice (as well as 15 other resort towns in the south of France like Cannes and Sisco) implemented a ban on burkinis because, according to the Agence France-Presse, the swimwear "overtly manifests adherence to a religion at a time when France and places of worship are the target of terrorist attacks."
That didn't sit well with Nekkaz. In response to the bans, the businessman, a real estate developer of Algerian descent who is living in Paris, created a fund to pay the fines for women who defy the burkini ban. He explained to The Telegraph in an interview that, while he does not personally support the burkini or the niqab, he does support democracy and a woman's right to choose, "Provided that this clothing is not a threat to freedom of others or the security of the territory."
Nekkaz has set up a a "freedom defence fund" to pay the fines for any women who are penalized by French police (he has already paid the fines of three women). This isn't the first time Nekkaz, who was born in France but renounced his French citizenship in 2010 to run for office in Algeria, has stepped up to defend a woman's right to choose what she wears. In 2011, he set up a fund of €1 million to pay off fines for women who choose to wear full Islamic veils in countries where it is illegal (like France). He told reporters at a press conference at the time:
I'm in favor of a law to convict a husband who forces a women to wear the niqab and who forces her to stay at home. But I'm also for a law that lets these women move freely in the streets, because freedom of movement, just like any freedom, is the most fundamental thing in a democracy.
Nekkaz has likened himself to the philosopher Voltaire in the past, telling The Telegraph:
Once I do not agree, I will fight to the death to give the possibility to these people to express their opinion or to dress as they please. That is freedom. It is a question of principle.
While Nekkaz's statement may read a tad theatrical, the reality is that his support makes a huge difference to many French women who simply want to wear the costume of their choice on the beach. Nekkaz isn't afraid to stand up for his beliefs. And he believes in a woman's right to choose.