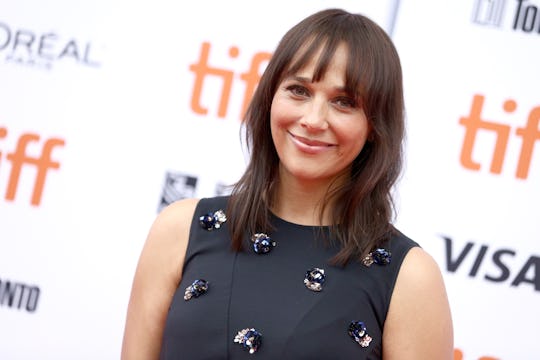 Rich Fury/Getty Images Entertainment/Getty Images
Here's What We Know About The Father Of Rashida Jones' Top Secret Baby
There are a lot of celebrity trends I can get behind; bangs, jumpsuits, whatever Jennifer Aniston does every day, all the time. But here's a celebrity trend I could do without; dropping baby news months after the fact. Now don't get me wrong, I absolutely agree that celebrities deserve to have their private lives and don't owe us a full accounting of what they're up to. But there's something about these secret relationships/pregnancies that make me feel duped. Like a chump. And the news that Rashida Jones is dating Ezra Koenig and apparently had a baby a few months ago? I mean... come on.
I'm also a little ashamed of myself that I didn't fully recognize who Ezra Koenig was, to be honest. If you're in the same boat, here's why you have probably heard the name but couldn't quite place it. He's the lead singer for Vampire Weekend. Now to be fair to the Parks and Recreation actress, the two have been a couple for quite some time on the down low. I just didn't know about them, so I can't fault her for that one. But the really big news is that the couple welcomed their first child together, Isaiah Ezra Koenig, back on Aug. 22, according to E! News.
Neither Koenig nor Jones, who is the daughter of legendary music producer Quincy Jones, have confirmed the baby news just yet. But that makes sense because neither one of them has officially confirmed they're a couple yet either. The two have been linked since 2015, they year that Jones read a short story on Koenig's radio show and then her dad tweeted a sweet dinner pic that included Koenig in the background, according to Alma.
Koenig and Jones made things semi-official (while still remaining chicly tight-lipped, of course) when they attended an event at UCLA together called "The Champions For Our Planet's Future." By January 2017, they became People official when they showed up together at the Sundance Film Festival and the magazine reported:
The cute couple — who have kept their relationship largely under wraps…didn't shy away from showing off some PDA. 'She was calling him 'baby,' and after her interview at the studio, she walked up to him and was hugging him. They were very comfortable together.'
Prior to dating Koenig, Jones was engaged to music producer Mark Ronson and was also linked to Saturday Night Live's Colin Jost, according to Alma.
Cut to 2018 and the couple are reportedly new parents together. Which wasn't necessarily always a plan Jones always had in the works, according to a 2014 interview she gave to The Guardian where she said:
I'm happy, but the fact that I'm not married and don't have kids—it's taken me a long time to get to a place where I actually am OK with that, where I actually don't feel like I'm some sort of loser.
The reality is, of course, that no one is a "loser" for not being married or having kids. But now that she has a little boy... I hope she's enjoying every moment of it.
Even if she didn't tell me personally.