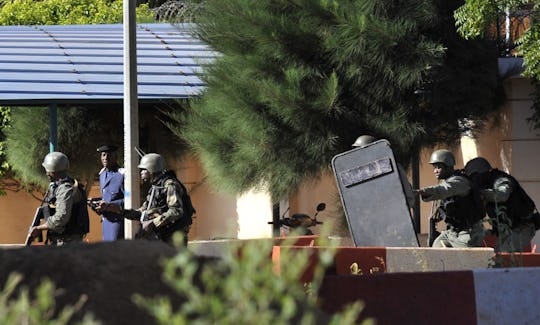 Who Is Responsible For The Mali Attack? Here's What We Know So Far
UPDATE: On Friday, the Islamic Militant Group Al Mourabitoun claimed responsibility for the Mali attack, along with al-Qaeda. At least 21 people have been confirmed killed, along with one American.
EARLIER: Exactly one week after the deadly attacks on Paris Nov. 13, Islamist militants have attacked a luxury hotel in Mali, taking approximately 170 hostages, according to reports. Up to ten gunmen are said to have stormed the Radisson Blu hotel in Bamako at 7 a.m. GMT (2 a.m. EST), shouting "Allahu Akbar," and opening fire. 80 hostages have reportedly been freed, although that has yet to be confirmed by authorities. One question still answered is who is responsible for the Mali hotel attack.
The identity of the gunmen and their affiliation is still unknown, and it is unclear exactly what if any connection there is between the incident and last week's attacks in Paris. But Mali has been politically unstable since a rebellion in 2011, and Islamist groups (including militants linked to al-Qaeda) have been fighting to seize control of the country. Northern Mali was occupied by Islamist fighters for most of 2012. A former colony of France, Mali requested military assistance from France in 2013, which helped to gain back control from the rebels, but violent attacks have continued to occur in the country since. According to The Telegraph, Islamist gunmen killed 13 people at a separate hotel attack in central Mali in August, and five people were killed back in March in a terrorist attack at a Bamako restaurant, La Terrasse. It is thought that France's continued involvement in Mali has further motivated Islamic State violence towards France, although it is unclear whether the Radisson attack in Mali was carried out by ISIS fighters like in Paris, or another terrorist group.
The BBC reports that the US-owned Radisson Blu is a popular choice for foreigners and airline crews, and was at 90 percent occupancy at the time of the attack. Despite being considered high-risk for terrorists in the area, claims that security was lax at the property are being raised in light of the attacks.  
Image: HABIBOU KOUYATE/AFP/Getty Images News