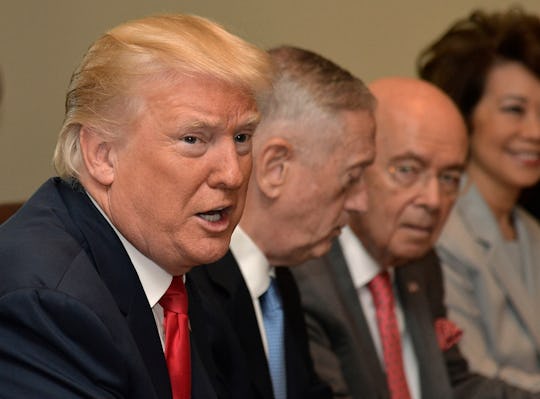 Pool/Getty Images News/Getty Images
Here's What You Need To Know About Rick Gates' Role In The Russia Investigation
On Monday, arrests were carried out for the first indictments in Special Investigator Robert Mueller's investigation into Russian collusion in the U.S. presidential election, according to The Washington Post. Trump's former campaign manager, Paul Manafort, surrendered himself Monday morning to federal authorities. Rick Gates was also named as one of the first indictments in the Russia investigation. Who is Rick Gates? He was Manafort's former business partner, as well as a former Trump aide and Washington, D.C. lobbyist. Earlier this year, The New York Times described Rick Gates as Manafort's protégé.
Update: A spokesperson for Rick Gates released a statement to the public following Gates' indictment on Monday. Rick Gates has pled "Not guilty" to all 12 charges.
Manafort and Gates have each been charged with 12 counts in the indictments, according to a copy of the indictment obtained by ABC News. The 12 counts against Manafort and Gates include conspiracy against the United States, conspiracy to launder money, seven counts of failure to file reports of foreign bank and financial accounts for specific calendar years, being an unregistered agent of a foreign principal, false and misleading Foreign Agents Registration Act (FARA) statements, and other false statements. A spokesperson for Manafort did not immediately respond to Romper's request for comment.
Rick Gates, whose full name is Richard W. Gates III, is the chairman of the advisory board of Gates Group International, of which is father, Richard Gates Jr., is CEO. Gates Group International is a management consulting services firm located in Prince George, Virginia. According to his bio on the Gates Group website, Gates holds a B.A. in Government from The College of William & Mary and a M.A. in Public Policy from George Washington University. He also completed the Executive Management Program in Brussels and London. In 2011, Gates became a member of the board of directors to Denver, Colorado-based ID Watchdog, a consumer protection company that specializes in resolving identity theft. Gates resigned from his ID Watchdog board position just one day following the 2016 election, according to a press release issued by the company last year.
Gates has an extensive background in politics, finance, and lobbying, as his bio further states he "has worked on several U.S. presidential campaigns and has participated in many international political campaigns in Europe and Africa." According to The New York Times, Gates and Manafort first met when Gates was an intern at Manafort's powerful Washington, D.C. consulting firm, Black, Manafort, Stone, and Kelly. About those "international political campaigns in Europe and Africa" mentioned in Gates' bio? Manafort's consulting firm worked on the campaigns of several dictators including Mobutu Sese Seko of Zaire and Jonas Savimbi of Angola, a group of clients dubbed "the torturers' lobby."
In a profile of Gates for The Times, the outlet characterized Gates as Manafort's shadow, saying, "Nearly everywhere Paul Manafort went, it seemed, Rick Gates followed." It seems too, that Gates is practically a shadow in real life, too: As a lobbyist and consultant working in both D.C. and international politics, there's little to be found written online about him. Many of the profiles about Gates have been through the commentary of others about what Gates is like as a person, and the extent of the work that he does.
Gates is probably most well known for the whole Melania Trump speech plagiarism incident during the 2016 Republican National Campaign. Multiple outlets reported at the time that Trump had plagiarized portions of her RNC speech from a 2008 speech by Michelle Obama. Initially, outlets reported that Gates had written Trump's RNC speech, but later a Trump Organization staff writer took responsibility for the speech-writing gaffe.
As The Daily Beast reported in June, Gates was still making several visits to the White House, according to unnamed White House officials — this, despite the fact that the Trump administration worked hard to distance itself from the beleaguered Manafort in the early months of Trump's presidency. The Times expounded on the connections that Gates had with Manafort in the form of paper trails, as well, noting: "As investigators examine Mr. Manafort's financial and political dealings at home and abroad, they are likely to run into Mr. Gates wherever they look." As Monday's indictments show, the Manafort and Gates seem inextricably linked as the first two people charged in Mueller's Russian collusion investigation. CNN reported that Gates surrendered himself to federal authorities on Monday without incident.