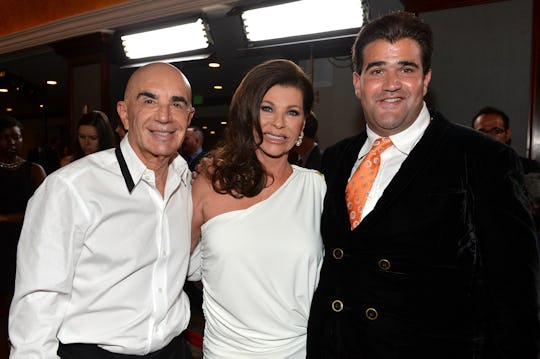 Alberto E. Rodriguez/Getty Images for Race to Erase MS
Who Is Robert Shapiro's Wife? Linell Thomas Has Been Through A Lot Over The Years
With the wildly anticipated The People v. O.J. Simpson: American Crime Story well under way, it looks like we are back to devouring All Things O.J.™ For those of you too young to remember (and I'm depressed that I'm even saying that), 1995 was the Year of the Trial. I don't remember another single thing about it. That's basically all we did for weeks. Eat nachos and watch the Simpson trial. We wanted to know everything we could about... well, everyone. The accused, the victims, the victims' families, the accused family, his weird friend Kato Kaelin. The lawyers and their families. We know a little something about Simpson lawyer Robert Kardashian's family obviously — but what about that other Robert? Simpson lawyer Robert Shapiro? Who is Robert Shapiro's wife?
Robert Shapiro — for those who were not glued to the beige courtroom drama for weeks on end — is a successful litigator in California. He practices law to this day, in fact. For those of you really not in the know... he is the one played by John Travolta. I am sorry to tell you, those eyebrows are pretty much spot on.
Shapiro was already a well known entity in legal circles before he joined the Simpson trial. He represented high profile clients like Johnny Carson back in the day. (Note: Johnny Carson was like a less funny, older version of Jimmy Fallon) This was probably fairly lucrative for him as Carson was a fan of getting divorced.
Robert Shapiro seems to have had considerably better luck in the marriage game than Carson so far. He married Linell Thomas in 1970 and they have been together ever since. Together they had two sons, Grant and Brent. Linell was briefly an actress, best known for starring in an Allan Smithee film Burn Hollywood Burn (1997).
So I guess that technically means she could have played herself in the FX drama American Crime Story. Instead they got Cheryl Ladd to play Linell, which seems like a good trade-off if you ask me. Because Charlie's Angels.
Like so many others touched by the Simpson drama, the Shapiros have not been without their share of heartache. They lost their son Brent at the age of 24 to drug addiction. Brent had struggled since his teens to battle the disease and finally succumbed in 2005. After his death, Robert and Linell formed the Brent Shapiro Foundation for Drug and Alcohol Awareness. The foundation focuses on awareness through education, parental support, and removing the stigma of addiction as a disease.
So now that you've gotten to know the real life Linell and actress Cheryl Ladd a little bit better, it's time to indulge in a little American Crime Story. Start popping that popcorn.