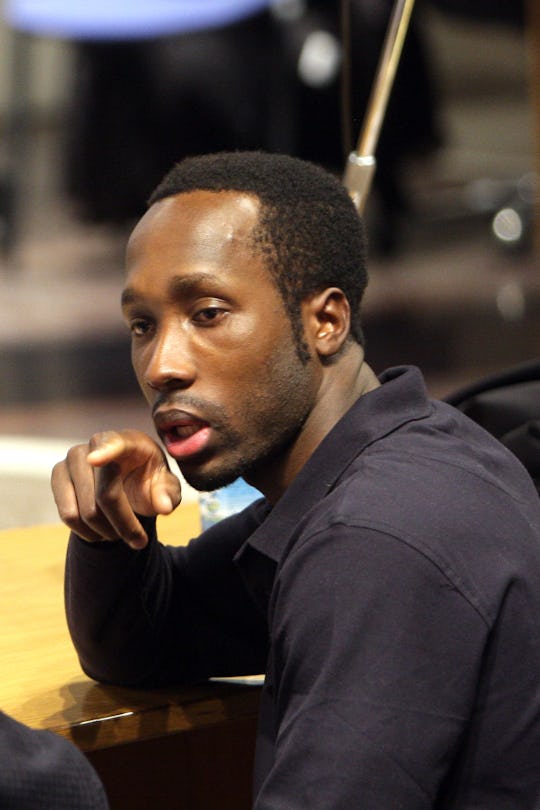 Franco Origlia/Getty Images News/Getty Images
Who Is Rudy Guede In The Amanda Knox Trial? He Is Currently Serving A Sentence For Murder
On Nov. 2, 2007, British college student Meredith Kercher was found murdered in the Perugia, Italy apartment she shared with three other women, one of them being a student like herself, after having been stabbed late the night before. What followed would be a circus of a trial, with prime suspects being roommate Amanda Knox and her boyfriend, Raffaele Sollecito, along with mutual acquaintance Rudy Guede. And while we know plenty about Knox at this point, thanks to the media circus that was her trial, you may be wondering who Rudy Guede is in the Amanda Knox trial?
Knox and Sollecito would go on to spend several years in prison for the murder of Kercher, until both of their sentences were overturned (officially, after two trials) in 2015 and they were both acquitted of the crime, but Guede remained in prison and is still there to this day, serving out a 16-year sentence for the murder of Kercher.
The prosecution's theory — which was never proven — was that Knox, Sollecito, and Guede had all played roles in beating her, cutting her, and ultimately killing her and making the crime look like a burglary. Since the trial, both Knox and Sollecito were found not guilty on all of the charges, however, and only Guede remains in prison.
Guede was just 20 years old at the time of the murder, having spent the previous five years with his adopted family in Italy. He was born in the Ivory Coast in Africa and had lived there until the age of five with his mother. His father reportedly took him back home with him to Italy, where Guede grew up until his father left the country again and Guede was "informally adopted" into a wealthy family, according to The Telegraph. He eventually befriended Kercher, although the status of their friendship remains unclear to this day, as Guede maintains a different connection than Kercher's friends admit, according to The Daily Beast.
Because Guede opted for a fast track trial, his original sentence of 30 years was automatically reduced to 16 and in two years, he'll be eligible for a work release program.
Although Knox was acquitted of the murder twice, she remains at the forefront of the case, having been the only American involved in a case that many claimed was mishandled and resulted in unfair treatment of Knox, a foreigner. The case is going to be delved into yet again when Netflix premieres its documentary, Amanda Knox, on Sept. 30 to revisit the timeline of Kercher's death, those involved, and all of the media frenzy that surrounded it.