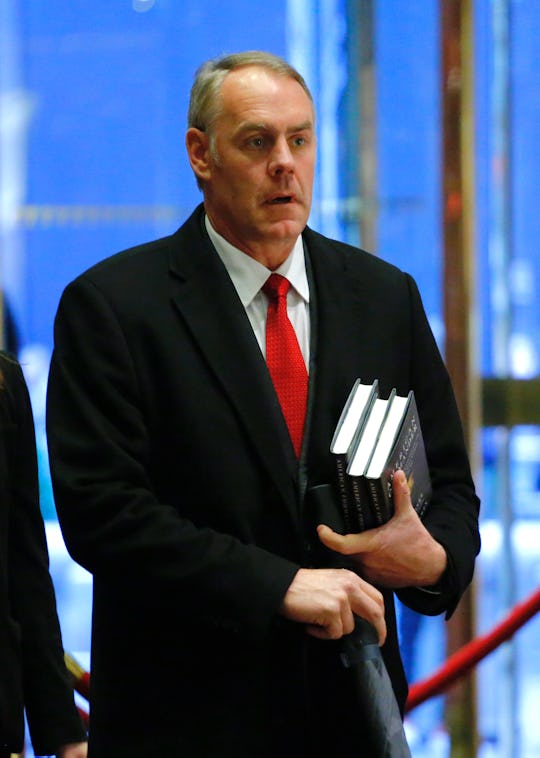 KENA BETANCUR/AFP/Getty Images
Who Is Ryan Zinke? The Montana Congressman Is Reportedly Trump's Interior Secretary Pick
The looming skyscraper at 725 5th Ave is one exciting place these days. As President-elect Trump continues to make decisions concerning his future Cabinet, the revolving door to Trump Tower is in constant motion. Trump Tower's latest visitor? Congressman Ryan Zinke, whom Trump invited to New York on Tuesday, reportedly to discuss the possibility of the Republican Montana representative's possible appointment as Interior secretary.
Zinke was one of three possible choices for Interior Secretary; President-elect Trump was reportedly also considering Rep. Raul Labrador from Idaho and Rep. Cathy McMorris Rodgers from Washington for the position. McMorris Rodgers was considered the favorite to nab the Cabinet position, but some Trump top aides were allegedly less than pleased with her, according to Politico. Zinke has reportedly won out against the other two contenders, with two Trump transition officials confirming Trump's choice on Tuesday, and also confirmed that Zinke has accepted the offer. Zinke was an early supporter of Trump, and his wife Lolita is a member of Trump's transition team. Lolita Zinke will be taking part in the assessment of Team Trump's Veterans Administration landing team. Rep. Zinke is an ex-Navy Seal commander who served from 1986 to 2008, and was elected to the House in 2014. While he is reportedly planning to accept Trump's offer to be Interior Secretary, Zinke was also reportedly tapped to challenge Montana Democrat Sen. John Tester in 2018 by top Washington Republicans.
Zinke is a father of two sons (Wolfgang and Konrad) and a daughter (Jennifer, who is a U.S. Navy diver), and grandfather to two little girls. A fifth-generation Montanan, Zinke ran his successful campaign on energy independence for North America. He studied geology at the University of Oregon before becoming a Navy Seal (where he received two Bronze Stars for combat service in Iraq), and now sits on the Natural Resources and Armed Services committees. If all goes the way President-elect Trump plans, Zinke will work alongside one of his heroes in Trump's cabinet; retired Gen. William "Mad Dog" Mattis, Trump's pick for Secretary of Defense. The two fought together in Fallujah, and Zinke has nothing but respect for Mattis.
Zinke is reportedly a big hunter and fisherman, and has been outspoken in his belief in public access to federal lands. He is a supporter of the Keystone pipleine, and recently criticized an Interior department rule that was intended to forestall accidental gas and methane release on federal lands. The Washington Post reported Zinke said at the time:
Clean air and clean water are absolute top priorities when we talk about responsible energy development, however the final rule issued by the Obama administration does nothing to further protect our resources. This rule is a stark reminder that we need to invest in infrastructure projects like the Keystone pipeline, so we don't need to flare excess gas.
Trump spokesman Jason Miller spoke to reporters about Zinke on Tuesday and had nothing but praise for the congressman.
Congressman Zinke is a strong advocate for American energy independence. And he supports an all-encompassing energy policy that includes renewable, fossil fuels and alternative energy. Additionally, Congressman Zinke believes we need to find a way to cut through bureaucracy to ensure our nation's parks, forests, and other public areas are properly maintained and used effectively.
As Secretary of the Interior, Zinke will be responsible for the management and conservation of federal lands and natural resources. The outgoing Secretary of the Interior in President Obama's administration is Sally Jewell.