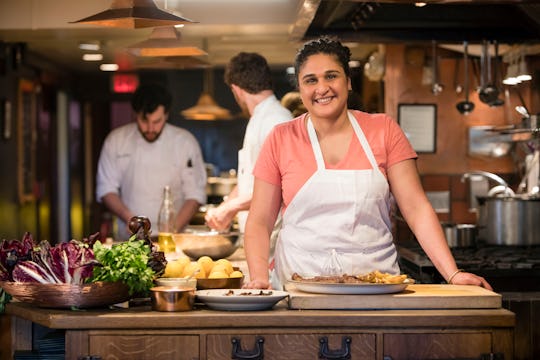 Adam Rose/Netflix
Samin Nosrat Is More Than A Chef On Netflix's 'Salt Fat Acid Heat'
Samin Nosrat has spent the past 20 years learning how to combine salt, fat, acid, and heat to make top notch meals. You don't have to be a world class chef to know that salt and fat make any dish infinitely better, but she's taken it a few steps further with the Netflix docu-series, Salt Fat Acid Heat. Anyone who has an obsession with cooking shows is probably watching it, so who is Samin Nosrat?
Salt Fat Acid Heat is all about her travels around the world, learning about different cultures' foods, and incorporating all four elements into each recipe. Before the show was ever a thing, however, it was a book titled Salt, Fat, Acid, Heat: Mastering the Elements of Good Cooking that landed Nosrat on The New York Times Best Sellers list.
Instead of Netflix taking the idea behind the cooking book and running with it, Nosrat was brought on as host, cook, and traveler to take her simple fat, acid, heat, and salt formula around the world. But she wasn't always a cook and she didn't always have an interest in haute cuisine. According to her website, Nosrat didn't start cooking until she went to UC Berkeley to study English and visited the kitchen at Chez Panisse restaurant. It was a sudden detour that, according to Nosrat on her website, "happily determined the course of my life and career." She also said that her goal has been to use both cooking and the written word to raise "cultural, social and environmental awareness."
According to The California Sunday Magazine, she worked at Chez Panisse and gradually learned the ins and outs of cooking. This further inspired her to combine two things she'd come to love — writing and cooking — and make a career out of them.
Nosrat's success as a chef and as a food columnist for the New York Times Magazine has gained her notoriety over the years and before she was given her own Netflix series, she appeared on Michael Pollan's Cooked. In fact, he wrote in his book, Cooked: A Natural History of Transformation, that Nosrat was one of the chefs who taught him how to cook. Basically, long before she was inspiring viewers to embark on traveling excursions in the name of food and culture, she was already making an impact in the food world.
Just in case Salt Fat Acid Heat doesn't make you hungry, Nosrat's Instagram is full of perfectly arranged photos of everything she eats. They're basically cover options for any future cookbook she might write. So unless you want to make a cake at 11 p.m. with 100 percent cocoa powder like I was tempted to do last night, I would eat before going on her social media. But her whole goal as a food writer and chef is to inspire others to want to cook and to understand how easy it can be for anyone to do.
"The biggest takeaway — what I would really like to happen for anyone who watches the show — is to feel like they can cook something, or anything," she told TheTakeout.com. "I would like you to get off your butt and go cook something, whether it's chicken or making a vinaigrette for the first time, or you know, making a pot of beans. Because maybe you're a pretty good home cook, but you always use canned beans."
Nosrat might have started out as a writer studying English, but she's transformed her original career path into something unique and exciting that viewers now have the opportunity to watch on Netflix. That is, if you can handle being hungry for freshly rolled ravioli in the middle of the night.