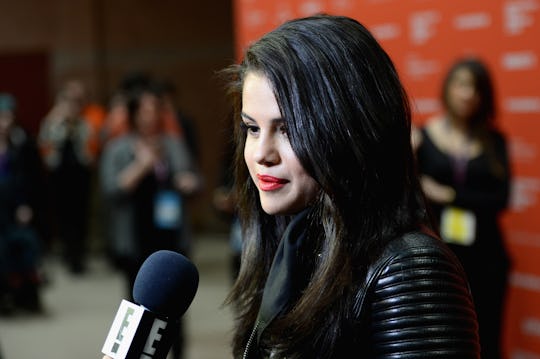 Andrew Toth/Getty Images for Sundance Film Festival
Who Is Selena Gomez Dating? She's Had A Pretty Busy Love Life
Oh, to be Selena Gomez. Not just because she's super gorgeous and young and rich and has luscious long hair that never looks ratty. But egads, that girl's dating life! The dudes are after her something fierce, and why not? After dating the Biebs for what seemed like decades, Gomez has decided to move on. Play the field a little. While she's still a PYT (Pretty Young Thing, for you non-Michael Jackson fans). So that begs the question — who is Selena Gomez dating?
Now that she is a free agent — sorry kids, the fresh-faced singer is no longer accepting the "Jelena" moniker — the world is her oyster. She is no longer bound to the terms of her long term dude. After all, those two were together longer than some marriages I could mention. According to VH1, Gomez and Bieber were together for four years. Four years! From 2010-2014 at least. Which means the Biebs was still only 16 years old, a babe in arms. Selena was only 17 herself. They were having this super public affair, where grown up adult-types were watching them like hawks to see if they would make out. (Sidenote: want to know what I was doing at 17? Trying to perfect liquid eyeliner. That was it. And Selena was jetsetting with her broody boy toy all over the Caribbean.)
Of course, it wasn't to be. But she moved on pretty quickly, our little Selena. In 2014 alone she (allegedly) dated Orlando Bloom, Toomaso Chiabra, and singer Zedd (which was definitely NOT a publicity stunt, thank you).
Recently, Gomez has been linked to One Direction's Niall Horan, but rumor has it the romance has fizzled. Sources claimed that Selena wasn't really that into Horan, and was just looking for something casual, but that he had been looking for a little more, and the relationship supposedly fizzled out.
Friends say Gomez is trying to focus on her own career, friends and family above all else. In an interview with Rolling Stone, she even fiercely admitted she was "officially done chatting about Jelena" and all the drama that accompanied her love life.
That being said, Gomez has been posting some seriously smoking pics of a mystery man on Instagram lately. Turns out that guy is model Christopher Mason, and he previously starred in Gomez's hot new music video for her hit, "Hands To Myself."
So are they dating? Are they hooking up? Is all of this a publicity sham meant to keep us interested in the goings on of PYTs like Selena? I find it doesn't really matter, especially since we all now get to waste time browsing through those pics of Mason and Gomez instead of actually working. All is right with the world.