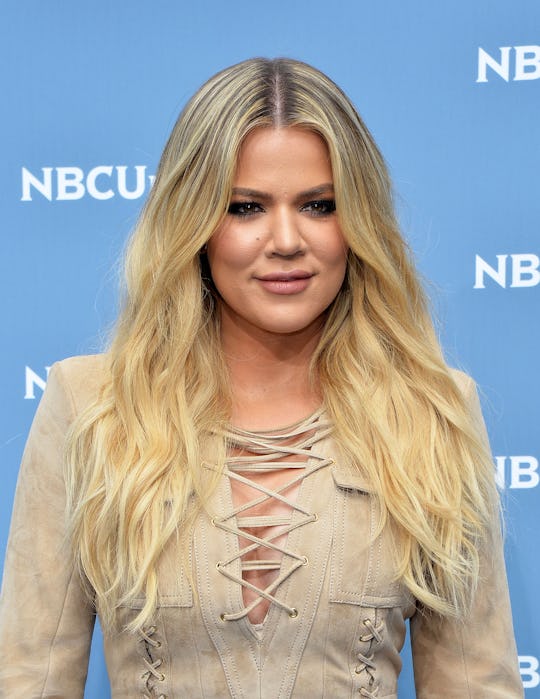 Slaven Vlasic/Getty Images Entertainment/Getty Images
Who Is Staying With Khloe Kardashian? Her Family Is Always In Her Corner
I have a sneaking suspicion that the state of Ohio never expected to become such a social hub for all things Kardashian. Back in the days pre-Khloé and Tristan Thompson relationship, I don't think the family was spending a whole lot of time there, but these days it seems like barely a day goes by without some Kardashian or Jenner flying in and out bundled in designer sweats and sunglasses. All on account of Khloé and her new baby, little girl True Thompson. And while there are plently of Kardashians and Jenners visiting, who is staying with Khloé in Ohio to help out, not just with the baby but also to give some guidance about her reportedly troubled relationship with Tristan?
When the Good American jean designer gave birth to her daughter last Wednesday, she had a solid group of supporters by her side. Her sisters Kim and Kourtney flew back from their family vacations in Turks and Caicos to be with Khloé, and of course her mom, Kris Jenner, was by her side (because honestly, can we all finally just admit that Kris Jenner is the most dependable person in the world?). Khloé's best friend, Malika Haqq, was also reportedly on hand for the birth, as was Tristan Thompson. It's possible that the full contingent of support might have been on hand to act as a bit of a buffer between Tristan and Khloé. Unfortunately, after months of being so super excited about welcoming her baby girl with her "love," the Revenge Body star had to deal with multiple reports that her Cleveland Cavalier player boyfriend was possibly cheating on her during her pregnancy, according to video shared by TMZ.
Despite the reported trouble with Tristan, Khloé presented a united front when she announced her daughter's birth on Instagram with a pink-hued photo and the caption:
Our little girl, True Thompson, has completely stolen our hearts and we are overwhelmed with LOVE. Such a blessing to welcome this angel into the family! Mommy and Daddy loooooove you True!
Whether the reports are true or not, it's obviously a pretty fraught time for the Revenge Body host. And definitely a time when she needs her family to be with her. Kim and Kourtney went home the day after True was born, with Kourtney hitting up Coachella for the weekend with youngest sister Kylie and Kim heading back to Los Angeles. Kris Jenner stayed on with her daughter in Cleveland and was there when both Kim and Kourtney returned on Monday, this time with younger sister Kendall in tow, as Kim noted in an Instagram post she captioned "We're on our way sis... "
These days, the Daily Mail reports that Khloé is staying on at Tristan's house in Cleveland without him. She has apparently asked him to leave the house while she tries to spend time with her new baby and decide what she would like to do next. As for mom Kris Jenner, who appears to have stayed on in Cleveland with her daughter along with Malika for the moment, has a clear agenda in mind; get Khloé back to Los Angeles with the rest of her family, according to Us Weekly. A source close to the family told the news outlet:
Khloé has promised her mom, sisters, Rob and friends that she will absolutely be returning to Los Angeles with True after Tristan's team is done with the NBA playoffs. She is absolutely not even thinking about her relationship with Tristan. The primary concern Khloé has is that Tristan and True are bonding.
Say what you will about the Kardashian/Jenner family, they always have each other's backs. As Khloé moves forward as a mom, she knows she has an amazing support system in place, whether that support system is in Cleveland or Los Angeles.