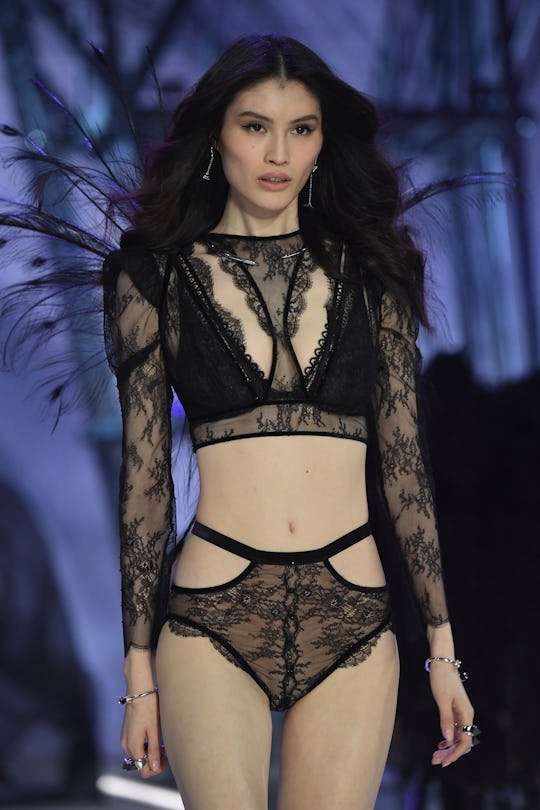 Pascal Le Segretain/Getty Images Entertainment/Getty Images
Who Is Sui He? She's Smashing Barriers For Asian Models
Every year, my mom looks forward to the Victoria's Secret Fashion Show. She loves checking out the blinged out costumes and beautiful wings worn by the Victoria's Secret Angels. Her love of the show has even gotten me into watching every year; if only to spot which models I can recognize. But the most famous names may not be the ones to watch for. One model walking this year is Sui He, a Chinese model who is multi-talented and has broken barriers for Asian models everywhere. So who is Sui He?
While most of the attention is going to first-time Victoria's Secret models like Bella Hadid because of their fame, or to Irina Shayk because she walked on the runway pregnant, there are plenty of other models who deserve their moment in the spotlight. One of them is definitely Sui He.
Sui He has actually walked in every Victoria's Secret Fashion Show since 2011, The Huffington Post reported. Sui walking in this year's show is especially important, because it's the first time the Victoria's Secret Fashion Show will feature four Asian models. You can watch He in this year's show on Monday night at 10 p.m. Eastern Time on CBS.
Despite being a veteran model for the lingerie brand, He isn't a household name, and she has yet to be named a Victoria's Secret Angel, which seems like it's overdue. Fashion enthusiasts and bloggers have also taken notice and recommended He be made an Angel.
He was born in China, and was discovered from a modeling contest she entered and won when she was just 17, according to Fashion Magazine.
He has accomplished a number of firsts as an Asian model. She was the first unknown model to grace the cover of W magazine in 2011, and was the first global spokesmodel of Asian descent for the beauty brand Shisheido. He was also the first Asian model to open a Ralph Lauren show.
Since then, He has been on the cover of Vogue all around the world. She's appeared in ads for everything from H&M to Bloomingdale's, and has walked in shows for brands such as Oscar de la Renta, Dior, and Anna Sui.
He has also tried her hand in acting, playing a role in the Chinese film You Are My Sunshine.
You go, girl!
In an interview with Vogue UK, He talked about how she stays "catwalk-ready."
Relaxing, experiencing nature and laughing are what rejuvenate me and make me feel happy. I believe that when I feel happy, that's when I look beautiful… I make a point of laughing out loud every single day.
We're sure He will rock it on the runway at this year's show. And who knows? Maybe if we show enough love for He, she'll be named an Angel and finally earn her wings.